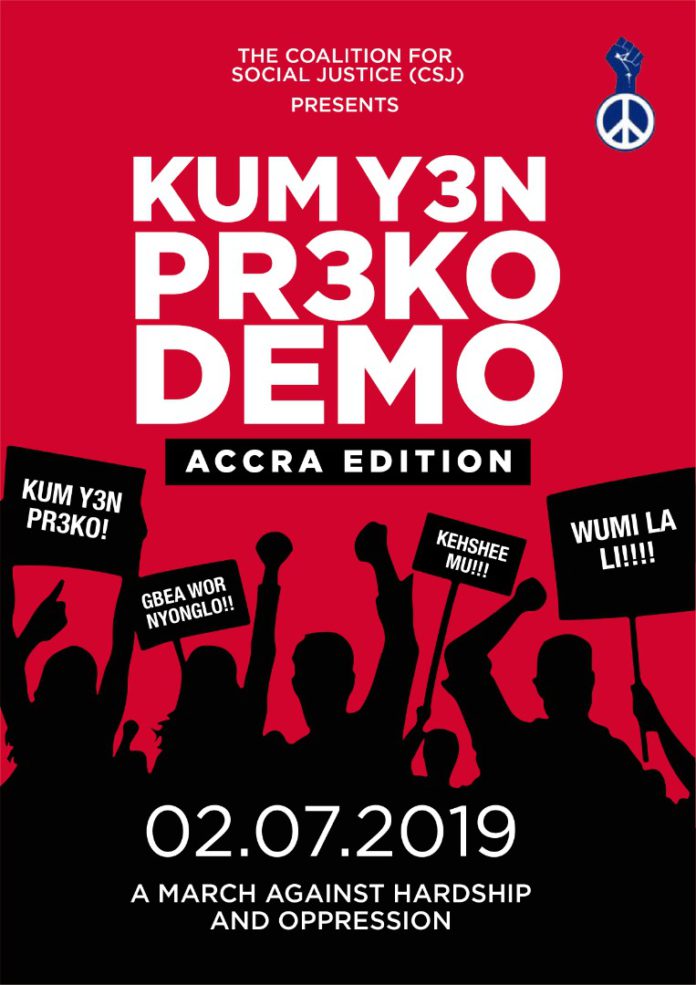 Members of the Coalition for Social Justice have announced a demonstration scheduled for July 2, 2019, against the Akufo-Addo-led government in 'A March against Hardship and Oppression' in Ghana.
In a statement signed by members of the coalition, they explained that their march dubbed 'Kum yen preko' is to protest the increasing levels of economic hardship and oppression under the leadership of President Nana Akufo-Addo.
 "Ever since President Akufo-Addo ascended the Presidency, he and his government have pursued policies that have left many worse off and increasingly vulnerable.
ALSO: Audio: Owusu Bempah disowns Prophet Tawiah over Akufo-Addo
"We note, among other things, the unbearable cost of
living in the country occasioned by high cost of fuel, continuous depreciation
of the cedi and skyrocketing prices of goods and services without a
corresponding increase in wages," the statement said.
To the group, "many flagship promises of President Akufo-Addo such as One Constituency-One-Million-Dollars per year, One Village-One-Dam, One-District-One-Factory, and the promised fight against corruption remain unfulfilled."
Aside these concerns, the group noted that it seeks to protest the several acts of oppression that have characterised the Akufo-Addo regime and made reference to journalists and political opponents.
"In the last two-and-a-half years, the Akufo-Addo government has sought to obscure and muzzle out any opposition to their mis-governance by resorting to persistent harassment of political opponents and independent dissenting voices," the group said.
Source: Adomonline.com