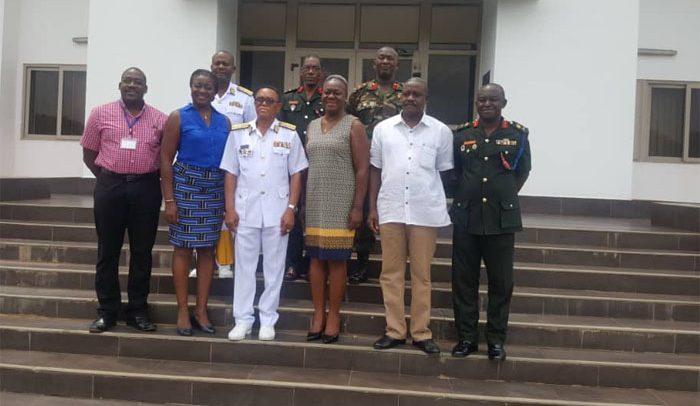 Late Brig Dzogbenuku Family Donates Books To GAFCSC
The Ghana Armed Forces Command Staff College (GAFCSC) has received old military books paramount for research purposes from the family of the late Brigadier R. Komla Dzogbenuku to support the revival of its research centre.
The Late Brigadier R.K Dzogbenuku was the 8th Commandant of the College and fellow of the United States Army War College.
The Commandant of the College, Rear Admiral Moses Beick-Baffour, who received the donation, said the books although old would be of importance to the college now that it has attained the status of tertiary institution.
He revealed that as a cadet recruit at the Military Academy during the late Brigadier R.K Dzogbenuku's time, he realised the man was a well read General, who served the military with [a] distinction.
According to him, the GAFCSC was running a Master of Science programme in Defence and International Politics and seeking to introduce another Masters of Science Programme in Security Studies.
"These old military books would be useful at the research Centre. We are now reviving our Research Centre and the books will be very useful there," he added.
He thanked the family of the late Brigadier for the gesture since the late Commandant's outstanding role at the time together with past and successive Commandants contributed immensely to the transformation of the College.
Brigitte Dzogbenuku, fifth child of the late Commandant, told the media in an interview that the father served the College from August 25, 1983 to September 1985 and was called to glory in 2011.
she said the decision to get rid of the books by burning or throwing them away were aborted when she ask the military if the old books would be useful to them.
"The response from the military was positive, hence together with my other siblings we proceeded to present the book to the College, where their father had served as the 8th Commandant."
Brigitte described late Brigadier R. Komla Dzogbenuku as a strong military man, who loved his work as a soldier.
" He rose through the ranks from Boys Company until he went into the Military Academy and became an officer. "
The late Brigadier led the second Battalions in Takoradi, was the Commandant at the Ghana Military Academy and eventually Commandant of the GAFCSC.
(lindatenyah@gmail.com)
By Linda Tenyah-Ayettey