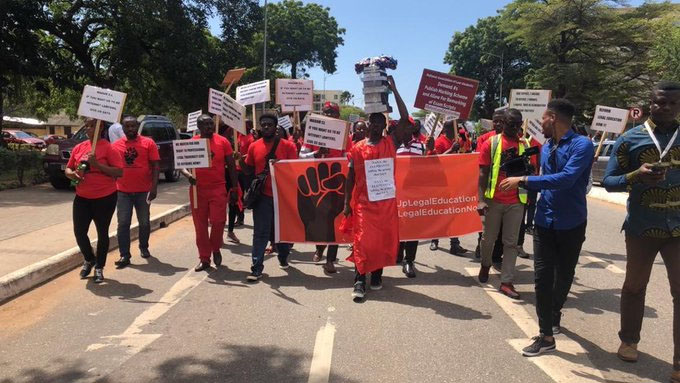 Law Students Demonstrate Over Mass Failures
Some of the students
Some Bachelor of Law (LLB) graduates and students of the Ghana School of Law have taken to the streets to protest against what they term as 'mass failure of students who take the entrance exams to the law school annually'.
The
students are demanding, among other things, a total scrap of the entrance
examination of the law school, and the abolishment of a 'Repeat Policy' at the
School of Law to allow for students to resit any examinations that they fail.
The
protest, which began in the early hours of yesterday, started on the premises
of the law school at Makola, Accra, to the Law Court complex.
They
then took a turn at the Accra Divisional Police Headquarters to the ministries
area where they presented a petition to the Attorney General's Department before
moving to the Jubilee House.
The
students made stops at some strategic locations such as the Ghana Bar
Association offices at Ridge to seek audience with members of the
association.  
At the Jubilee House, the protesters were
resisted by the police from converging on the forecourt of the Presidential
Palace. According to the police, the protesters did not have the permission to
converge on the Jubilee House.
Mass Failure
There has been mass failure by students who sit
for the entrance exams to the Ghana Law School annually.
This year, only 128 out of 1,820 LLB graduates
who sat for the exams passed to get admission to pursue the professional law
course.
The Supreme Court in 2017 declared as unconstitutional
the entrance examination and interview session used in admitting students for
the two-year professional law course.
These requirements, the court held, were in violation of the Legislative
Instrument 1296 which gives direction for the mode of admission into the only
school offering professional law course in the country.
Meanwhile, the Chief Justice Sophia Akuffo, who chairs the General Legal Council, has insisted that the existing systems and structures for the training of lawyers in the country would not be changed despite the public outcry.
By Nana Kwasi