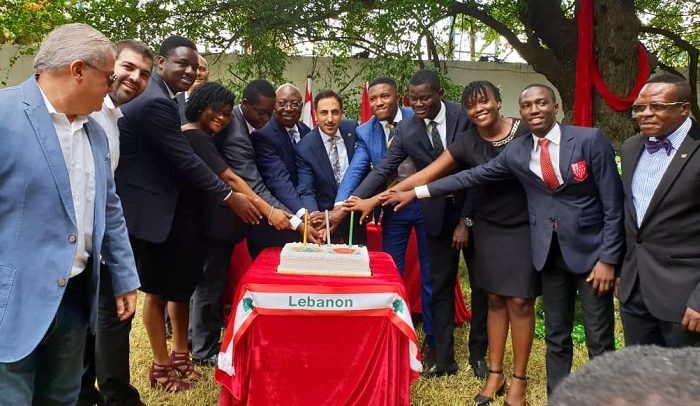 Lebanese Community Assists 6 Law Students
H.E. Maher (6th left) being supported by representatives of the schools,
beneficiaries and some members of the Lebanese Community
Six law students-three apiece from the University of Ghana,
Legon and the Kwame Nkrumah University of Science and Technology (KNUST) have
received scholarship from the Lebanese Community in Ghana.
And in a brief cheque presentation ceremony at the
Lebanese Embassy in Accra today, the ambassador Maher Kheir mentioned that the
gesture was to support the beneficiaries go the extra mile in their academic
pursuit, taking into account the cost involved in legal education.
The Lebanese ambassador said "Our scholarships will not be
stopped, but rather reinforced to support many more Ghanaian students. We, the
Lebanese people, believe that education is fundamental to any successful life.
"This is why we have expanded our scholarship programme to
include students in the School of Languages and the School of Performing Arts
at the University of Ghana.
"Under this new scheme, we will give prizes to the best students
in each faculty. In addition, we will offer a grant to one PhD student at the
School of Languages to deepen the cultural awareness between our two countries.
We are hopeful that more of such programmes will be rolled out in the near
future."
He added "To my dear students, you are the army of the just life
and the fair future we all desire. You have all the time to make this future in
this life more beautiful and better.
Director of the Ghana School of Law, Kwasi Prempeh-Eck, thanked
the Lebanese Community for the gesture on behalf of the students saying, "We
are most grateful for this gesture, it will go a long way in supporting them
considering the fact that legal education is expensive. I am sure they will
forever remember this investment."
In like manner, beneficiaries from the two schools thanked
the Lebanese Community for the support since Level Hundred.