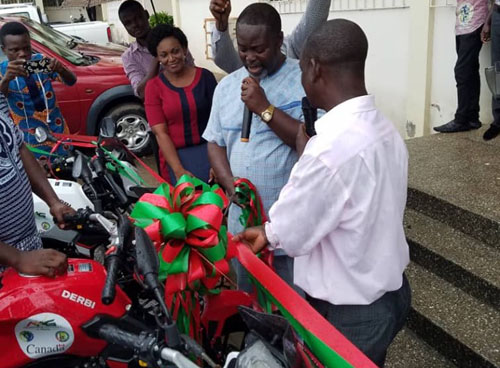 MCE Presents Motorbikes To Agric Officers
Isaac Appaw making the presentation
Isaac Gyasi Appaw, Municipal Chief Executive (MCE) of New Juaben South in the Eastern Region, has presented 14 motorbikes to the staff of the Municipal Department of Agriculture on behalf of the government.
The motorbikes were given to
the workers to enhance their activities, as the government considers
agriculture as the backbone of the country's economy.
According to him, through the
Canadian Support Programme, dubbed, 'Modernizing Agriculture in Ghana (MAG),
the government has secured brand new Nissan pickups for all MMDAs, including New
Juaben South Municipality.
He said that the government
has recruited over 2,000 Agric Extension Agents, adding that each assembly has
received seven of the well-trained officers.
At Kyebi, the MCE for Abuakwa
South Assembly, Kojo Ofori-Sarfo, also handed over nine motorcycles to the
staff of the Department of Agriculture of the Assembly at Kyebi.
Mr. Ofori-Sarfo said the NPP
government's flagship programmes are seeking to improve the living standards of
the Ghanaians.
"For instance, the 'Planting
for Food and Jobs,' 'Planting for Export and Rural Development. 1 District, 1 Factory,
1 Village, 1 Dam and 1 District 1 Warehouse were turning the fortunes of the
country."
He entreated them to do
proper maintenance to ensure the proper functioning of the motorbikes to extend
their lifespan so that incoming officers can have access to them to discharge their
duties.
Meanwhile, the Agric
Department, through capacity building and effective delivery of the extension
officers, has organized training for the staff on new extension modules under
the Technical Education Department of Modernized Agric in Ghana (TEDMAG).