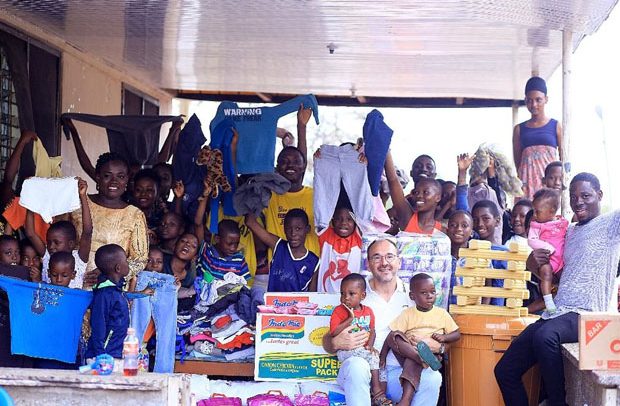 Medihelp Supports Great Mission Orphanage
Scene from the event
Medihelp West-Flanders/ West-African over the weekend presented items worth thousands of Cedis to Great Mission Orphanage Home, Nungua.
The items included bags of rice, sugar, gallons of oil, cartons of soaps, packs of soft drinks, other food items, toiletries and an undisclosed amount.
President and Co founder of Medihelp West Flanders, Frank Agyemang-Prempeh said the gesture forms part of his outfit's quest to reach out to the needy and vulnerable in society.
He said " This is the second time we are embarking on this project, and l must say it's an improvement of what we witnessed last year in terms of the volume of items.
"September 21 is my birthday, but l pushed it forward so l can celebrate with these precious kids. We will keep doing this and extend it to other ventures."
Proprietor of the Orphanage John Nyavor expressed gross thanks to Medihelp for the support saying, " This has come at a time we needed it most, we are most grateful to you and your partners."
A Belgian associate to Frank, Mr. Rudi De Kerpel was present to lend his hand and promised to support the orphanage in subsequent editions.
Mr Kerpel said his cash donation of 1,200 Euros was his widow's mite and has promised to support them with 10,000 Euros.
Meanwhile, Frank and his associates hosted the inmates to a well organized dinner at Moka's Labone.
Medihelp West Flanders is an NGO that seeks to help children, families, and communities in West Africa.
With support from Belgium, France and Ghana volunteers, it primarily aims at providing health support to neglected communities and orphanages.
BY Kofi Aduanum