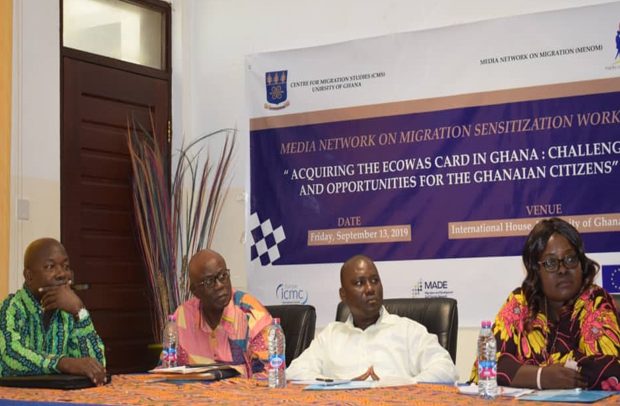 MENOM Foundation Holds Workshop on ECOWAS/ Ghana Card
The panel of speakers listening to a presentation
The Media Network on Migration (MENOM) Foundation, in collaboration with the Center for Migration Studies, (CMS) has held a sensitization workshop for media personnel and stakeholders on the ECOWAS and Ghana cards acquisition.
The one day event was themed "Acquiring the ECOWAS Card in Ghana: Challenges and opportunities for the Ghanaian citizens."
Project Director of MENOM Foundation, Patience Gbeze, said the workshop was part of the 'MADE West Africa Project' with the foundations component focused on building the capacity of stakeholders through training programmes, border visits and activities for immigration officials and migrants.
She said the MADE West Africa project was being undertaking by CMS in collaboration with partners in the United Kingdom and France and coordinated by the International Catholic Migration Commission Europe in Brussels, Belgium, with funding from the European Union.
Assistant Commissioner of Immigration (ACI) Francis Palmdeti, in his address stated that the ECOWAS identification card served the purpose of replacing travel document which can be used to access other African countries.
He added that the idea of the card is to replace residence permit, hence ECOWAS nationals will not need resident permit to reside in other African States.
He further said that the ECOWAS card serves double purposes which are Ghana card and ECOWAS card.
Nonetheless, migrants who have stayed in the country for a period of 90 days are entitled to 'non-citizen' Ghana card.
He said the Authority had so far issued more than 1.7 million cards out of the over 2.5 million people who registered.
ACI Palmdeti said the NIA had developed a plan to clear the backlogs, as it had set up two collection centres in each district in the Greater Accra and Volta Regions.
Professor Alex Asiedu, an Inter-Faculty Member of the CMS at the University of Ghana who chaired the workshop said the Centre was proud to help in building the capacity of journalists in gathering evidence-based reportage on migration-related stories.
He commended MENOM Foundation for the workshop which he said was timely as the Government of Ghana had begun the issuance of national identity cards, which doubled as an ECOWAS Identity cards.
He however called for the intensification of awareness and knowledge sharing among the public with regards the importance of acquiring the card.
Dr Ebenezer Nikoi, a Key Researcher in the 'Migration out of Poverty' Research project said there was the need to enhance the harmonisation of national labour policies and laws on trade and immigration with ECOWAS protocols.
By Jamila Akweley Okertchiri