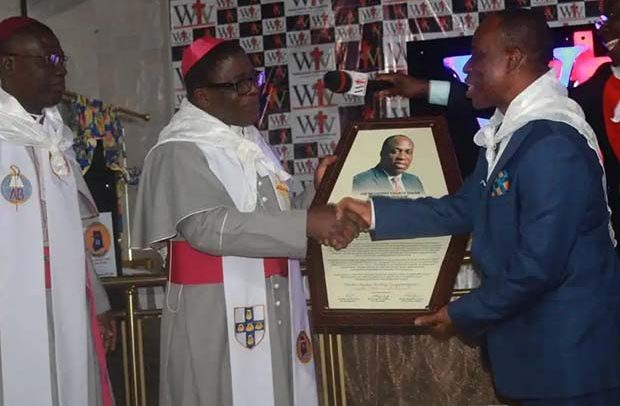 Methodist Church Honours Kessben
Mr Boateng receiving a citation from the Presiding Bishop
THE METHODIST Church of Ghana has recognised the work of the Chief Executive Officer (CEO) of the Kessben Group of Companies, Stephen Kwabena Boateng, by awarding him a plaque of appreciation for his distinguished services to the church.
Mr Boateng popularly known as Kwabena Kesse had funded the church's only television channel, Wesleyan TV (WTV), which was recently launched in Kumasi.
The businessman was also said to have contributed to the expansion and growth of the Kumasi Diocesan Methodist Church.
The Presiding Bishop, Most Rev Dr. Paul K. Boafo conferred the award on behalf of the Methodist Church at a surprise presentation, which formed part of the WTV launch celebration.
Reading the citation in honour of Mr Boateng, Rt Rev Samuel Kofi Osabutey, Bishop of the Accra Diocese of the Methodist Church, said the businessman made the church realize a cherished dream of owning a TV station to offer users an unadulterated teaching of sound doctrines, preaching of the word of God, in order to bring people to the saving-knowledge of Jesus Christ.
According to him, Mr Boateng donated equipment to set up the TV station and also paid for the grant of authorization by the National Communication Authority to operate the channel.
The Kessben Group CEO, who was overwhelmed by the honour, expressed his appreciation to the church for the recognition, as he dedicated the award to his late parents, Joseph Anane Boateng and Elizabeth Osei aka Adwoa Dufie.
He attributed his great success to his wife Fosuaa, for standing behind him at all times, asserting that many of the things accomplished in life had the support and blessing of the woman.
From Ernest Kofi Adu, Kumasi