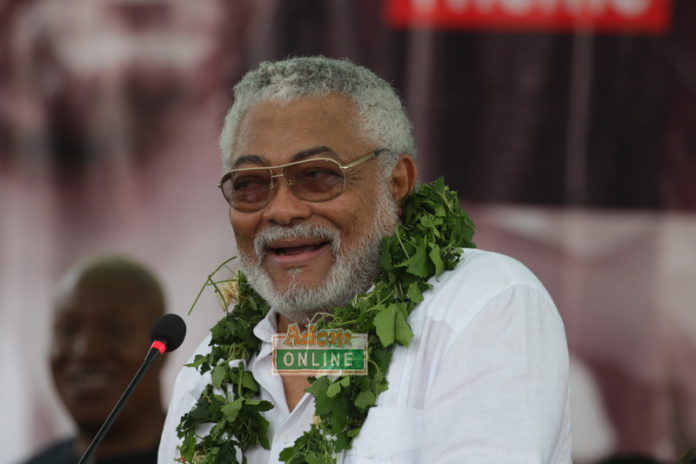 The Ghana Mineworkers Union, as part of its 75th Anniversary celebration, has honoured former President Jerry John Rawlings for his contribution to the development of Ghana's mining sector.
The former president was honoured together with Ghana's first President Dr Kwame Nkrumah, Mr Ebo Tawiah, former member of the Provisional National Defence Council (PNDC), and Mr Dominic Foevie, former General Secretary of the Ghana Mineworkers Union at a colourful dinner event on Friday.
Former President Rawlings, on behalf of the
awardees, expressed satisfaction for recognising their role in revitalising the
sector for national development and congratulated the union on their
celebration.
He urged the public to protect and preserve the
environment from destruction through illegal mining, which had affected the
country's ecosystem and admonished the authorities, especially the
Environmental Protection Agency, to exhibit high sense of responsibility by
enforcing the laws for effective environmental management.
Dr Nkrumah was honoured for nationalising the sector to protect workers' right to employment, a catalyst for industrialisation.
 The General Secretary said President Rawlings from 1981 to 2000, initiated and implemented aggressive policies to stimulate investment into the minerals economy and promulgated series of laws culminating into the creation of an effective regulatory framework that boosted foreign investments.
 Mr Tawiah was recognised for securing a tax-free paid overtime for the Union and members of three other unions at a time when their salaries were meagre and Mr Domnic Foevie, for shaping the mining industry by building a vibrant labour movement as the former Chairman of the Trades Union Congress' Executive Board.
Source: Adomonline.com