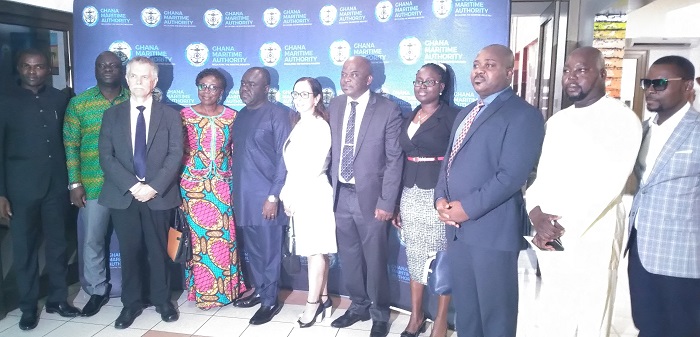 Minister Orders Initiation Of CTA Ratification Process
Officials of IMO, GMA and the ministry of Transport in a group photograph
The Minister of Transport, Kwaku Ofori Asiamah,
has tasked the Ghana Maritime Authority (GMA) to immediately initiate a process
towards the ratification of the 2012 Cape Town Agreement (CTA) which seeks to
ensure the safety of fishing vessels.
According to the minister, the absence of
regulations within the fisheries sector has to a large extent led to poor
supervision and improper management of some 125 locally registered vessels with
lengths of 24 metres or more.
He said the situation had made the country's
fisheries sector which employs about 10,000 people vulnerable to the
exploitative and illicit practices of owners and operators which are usually
undetected and unpunished.
"It is estimated that there are about 40
million workers working on vessels in the fishing industry globally.
Unfortunately, about 24,000 deaths are recorded in this sector annually," he disclosed.
Mr. Asiamah was speaking at a regional seminar
on the implementation and ratification of the 2012 CTA on implementation of the
provisions of the Torremolinos Protocol of 1993 relating to the 1977
Torremolinos International Convention for the Safety of Fishing Vessels.
The five-day seminar was organised by the
International Maritime Organisation (IMO) and GMA for participants from the
Central and West African regions.
It hosted participants from countries like
Nigeria, Sierra Leone, Guinea Bissau, Liberia, Senegal, Cape Verde and the
Gambia.
Other participating countries included
Equatorial Guinea, Sao Tome and Principe. Ghana was represented by
representatives from the fisheries commission, Ghana Navy, and Ghana Ports and
Harbour Authority (GPHA).
The 2012 CTA, which was adopted by the
International Conference on the Safety of Fishing Vessels in October 2012, was
seen as a renewed commitment towards ensuring safety through regulation in the
global fisheries sector.
So far, two African countries – Congo and South
Africa – have ratified the agreement, while globally 11 states with 1413
vessels out of a required 22 states with at least 3600 vessels have ratified
the agreement.
Prior to the 2012 agreement, a variety of
technical and legal constraints led to the failure of coming into force, the
Torremolinos International Convention for the Safety of Fishing Vessel and the
Torremolinos Protocol, adopted in 1977 and 1993 respectively.
An IMO Representative, Sandra Rita Allnutt,
said the absence of safety records in the global fisheries industry can be
mainly attributed to lack of a global regulatory regime.
"Illegal and unregulated fishing is a serious
issue for the global fishing sector which impacts negatively on environmental
conservation and sustainability and threatens livelihood of fishers who follow
sustainable practices," she added.
She urged participants to lead by example in engaging the relevant authorities in their respective countries to complete the process of acceptance and its subsequent implementation.
By Issah Mohammed