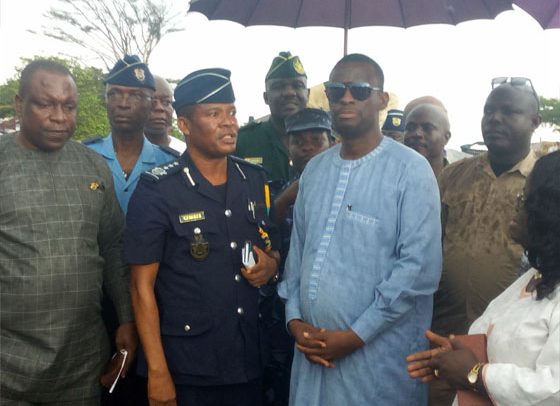 Minister Tours Border Town
Kwabena Okyere Darko-Mensah (right) with Edward Osei, the Sector Commander
The various security agencies at the Elubo border are collaborating to ensure
maximum security at the Elubo enclave in the Jomoro Municipality of the Western
Region. 
Mr. Edward Osei, Assistant
Commissioner of the Customs Division of the Ghana Revenue Service (GRA) and
Sector Commander at the Elubo border, disclosed this when the Western Regional
Minister, Kwabena Okyere Darko-Mensah, visited the border town. The visit
was part of the regional minister's two-day working visit to the Jomoro
Municipality. 
Mr. Osei indicated that
the effort of any single border security agency would be futile in dealing with
border challenges. He mentioned that these days, crimes had become
sophisticated in nature, adding "so it is difficult for a single organization
to handle the challenges that confront us in terms of border management".
He said, "… We
collaborate with the Ghana Immigration Service and other security agencies and
stakeholders at the border to ensure the achievement of total security of goods
and persons. We share intelligence to enable us deal with issues such as
terrorism, smuggling and check inflow of goods and services". 
He also mentioned that efforts were currently ongoing to block all
unapproved routes at the border posts.
Benchmark Value
The Assistant Commissioner of Customs described the reduction of
the benchmark port value as a fantastic policy the government had rolled out. "The
results are positive and we hope it will help increase revenue into the
national kitty", he said.
He indicated that the issue of inadequate staff at his outfit used
to be a problem but the posting of some personnel of the Nation Builders Corps
had addressed the challenge.
For his part, Mr. Darko-Mensah said the 'Ghana beyond aid' policy
of the government could be achieved with improved revenue by the various
revenue mobilization agencies.
He appealed to importers to let the reduction of the benchmark value reflect in the pricing of their products to benefit the final consumers.
From Emmanuel Opoku, Elubo