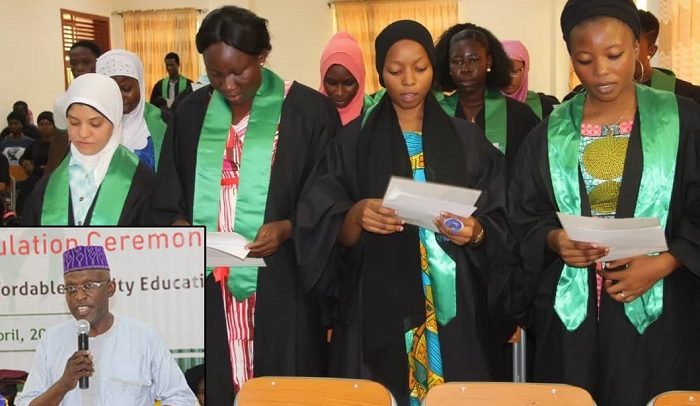 MIST Holds Matriculation For 43
Inset: Prof. Abdulai Salifu Asuro administering the oath
The Madina Institute of Science and
Technology (MIST) has held its third matriculation for 43 fresh students who
are pursuing various degree programmes for the 2019/2020 academic year.
Students were admitted into programmes,
such as Civil Engineering (7), Oil & Gas Engineering (8) and Business
Administration (28).
Addressing the students, the
President of MIST Prof. Abdulai Salifu Asuro, said that the school is poised to
provide affordable quality tertiary education to its students with the right
moral training through a conscious and systematic exposure to research and
activities in the corporate world to complement the academic work in ensuring
students graduate with appreciable level of information and practicable
experience to complement government's efforts.
He, therefore, implored the
matriculants to make maximum use of facilities available, attend lectures
regularly, complete assignments and take part in class assignments in good time.
Prof. Asuro welcomed the matriculants
to the university and wished them well in their various fields of study.
Present to usher the students to the
university were the University Council and Academic Board.
Notable among them were the Vice
President, Dr. Naail Mohammed Kamil, the Dean of School of Engineering, Dr.
Ahmad Abdulrahman Aly and the acting Registrar, Ishaq Yakubu Akmey.
In a goodwill message, Chairman of
MIST, Salem Kalmoni, congratulated the students on their admission to the
institution and expressed readiness to support their training at the Institute.