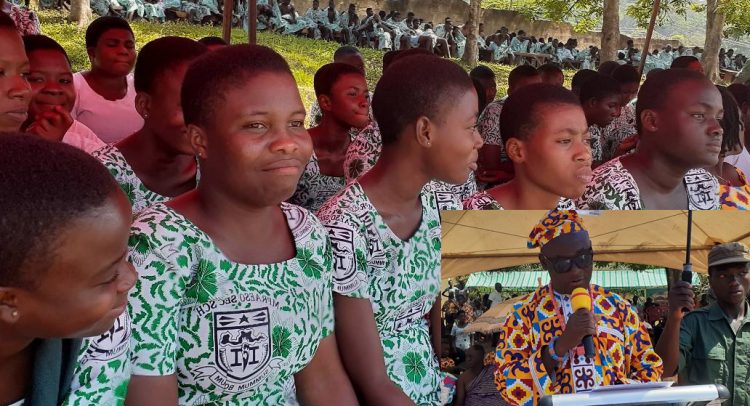 Mpraeso SHS Marks 58th Anniversary
A section of the students. INSET: Headmaster, Kwame Owusu-Aduomi addressing the gathering
The
Mpraeso Senior High School in the Kwahu–South District of the Eastern Region
marked its 58th Speech and Prize Giving Day over the weekend.
Speaking
on the anniversary theme: "Ensuring Sustainable Quality Education in Ghana: the
Role of the Stakeholders", the Eastern Regional Minister, Eric Kwakye Darfour, said
the Akufo-Addo government acknowledges the direct and indirect links between
education, poverty and development.
He
said the government was prioritizing education through improvements in the
provision of facilities and access, gender parity and skills training, and
personnel development to secure the future of the country.
He
reiterated the government's commitment to ensure that the youth are well
educated to strengthen the human resource base needed for accelerated
development.
He
said the government had allocated 15.6% of the total projected expenditure of
the 2020 national budget to education alone.
He
encouraged parents and guardians, teachers and the old students to continue to
play their respective roles by providing the needed support, ingredients and
motivation to complement government's efforts towards the provision of quality
and accessible education.
The
Headmaster of the school, Kwame Owusu-Aduomi, commended the Old Students
Association for their enormous contributions towards the development of the
school.
He
enumerated some of the challenges that the school was facing, and appealed
passionately to the government and other stakeholders to help address them.
He
said there were inadequate furniture (beds, desks, dining tables and chairs),
dormitories, school bus and dining hall complex to accommodate a large number
of the student population.
Paa
Kofi Ansong, Member of Council of State and an old student of the school who
chaired the function, advised the students to take their studies seriously to
justify the huge investment the government had made in them.
FROM Daniel Bampoe, Mpraeso – Kwahu