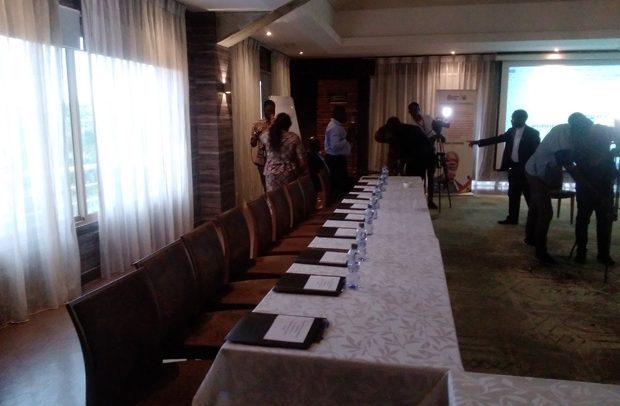 NDC Boycotts Vigilante Dialogue
The Empty seat left for the NDC
THE OPPOSITION National Democratic Congress (NDC) yesterday boycotted a dialogue organized by the National Peace Council at Peduase in the Akuapem South District for leaders of political parties on the eradication of political vigilantism in Ghana.
The NDC did not give any reasons for not showing up at the forum.
The meeting, which was the final in a series, was meant to present a drafted roadmap and code of conduct by the National Peace Council to the two political parties to approve for implementation.
It was organized following President Akufo-Addo's call on the leadership of the two main political parties to help find a lasting solution to the menace.
Most Rev. Prof. Emmanuel Asante, Chairman of the Peace Council, described the NDC's absence as very unfortunate.
He said even though the NDC did not attend the forum, he expected its leadership to sign the final draft later.
"Unfortunately, the NDC members are unable to join us this morning but they have the documents in their hands and are fully aware that this document is being discussed. The outcome will be conveyed to them," the Peace Council Chairman stated.
"The National Peace Council would closely work with the political parties and other critical institutions to achieve the full implementation of the recommendations of the roadmap and the code of conduct," he assured.
According to him, the roadmap was necessary to ensure the total eradication of political vigilantism in the country.
He said Ghanaians heaved a sigh of relief when the NPP and the NDC reached a consensus to address the issue of violent activities of their vigilante groups.
He noted that already four of such dialogues had been held involving the NPP and the NDC, adding that three out of such engagements had produced separate communiques which indicated, without doubt, the preparedness of the political parties to support efforts to deal with the menace once and for all.
He said it was the wish of the Peace Council that the NPP and NDC would complete the process as it had already done in the passage of the Vigilantism and Related Offences Act.
He concluded that the two political parties would very soon be engaged and publicly signed the documents after the Peace Council fully endorsed it.
The Communications Director of the ruling NPP, Yaw Buabeng Asamoah, noting that the NPP had accepted the roadmap in good faith, said it would  study it and come out with its decision.
Also present at the dialogue was Affail Monney, President of the Ghana Journalists Association (GJA), and other major stakeholders.
From Daniel Bampoe, Peduase