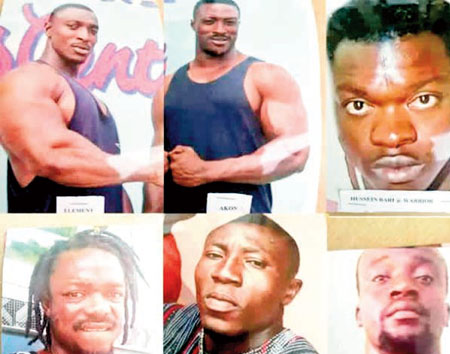 NDC Vigilante 'Killers' Get Bail
The suspects
SUSPECTS
in the murder of the opposition National Democratic Congress (NDC) vigilante,
Abdul Wasihu, have been granted bail by a High Court in Kumasi.
Dauda
Ibrahim, aka Wayo, 40; Samuel Agyin, aka Rock, 32, and Abdul Ganiyu, alias
Petit, 37, all members belonging to another NDC vigilante group called The
Hawks, were for the umpteenth time, denied bail by the Asokwa District
Magistrate where they have been arraigned for a committal process.
They
were joined in the dock yesterday by fugitive Suleiman Hussein, aka Akon, who
was arrested recently at his home at Kenyasi-Abirem in the Kwabre East
Municipality of the Ashanti Region.
Counsel
for the accused persons, Evans Amankwa, who failed to show up at the Magistrate
Court yesterday, went to the High Court with a fresh application to get them
released on bail, which eventually turned out to be positive.  
The
Magistrate Court had remanded the four for 14 days more to reappear on May 21,
2019, as it awaits a bill of indictment from the Attorney General's Department.
Dauda
Ibrahim, Samuel Agyin, Abdul Ganiyu and Suleiman Hussein Akon are four of a
number of people accused of killing Abdul Wasihu, 35, a member of the
'Taskforce', a vigilante group of the NDC, at the  Ashanti regional office of the party at
Amakom in Kumasi on February 18, this year.
They
were earlier declared wanted by the Ashanti Regional Police Command for their
involvement in the fatal shooting incident.
Later, an arrest warrant was issued for 11 of the suspects after three of them turned themselves in. They include Abdul Bari Mohammed, alias Warrior; Midjima; Abu Taliban; Saani Mohammed, aka Commando; Gyafaru alias Element; Fuseini, aka Jah Rule; Demos; Fayiz and Suleiman, aka Akon.
From Ernest Kofi Adu, Kumasi