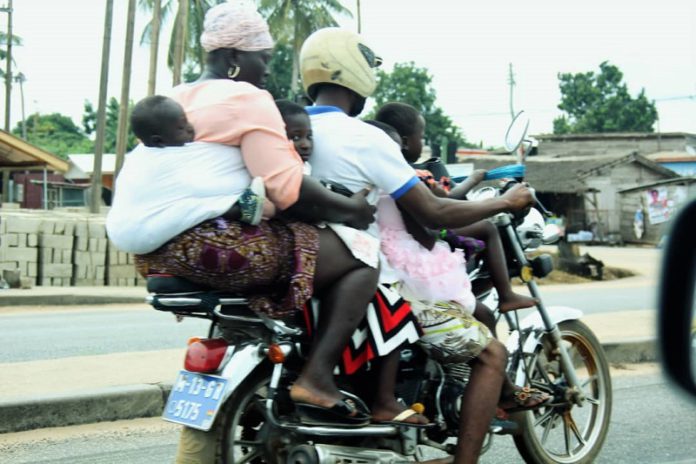 An irresponsible Couple in Koforidua was caught on camera by EIB News Eastern Regional Correspondent, Kojo Ansah, on Saturday negligently risking the lives of their children on a Motorcycle at a Traffic light on Kasadjan Highway heading towards Nyamekrom direction.
The Couple were transporting their four children on a single motorbike. More worrying was the fact that the woman was carrying one of the kids under two years at her back while dangling on the tip of the metal saddle of the motorcycle.
The man selfishly wore a crash helmet for his safety without thinking of the safety of the other occupants of the motorcycle including the fragile children.
Statistics indicate that motorcycle fatalities have increased from 2.7% to 25% of the total road accident fatalities recorded in 2018.
The Road Traffic Regulations[128] of 2012 forbids the use of Motorcycles or tricycles for carrying passengers particularly for commercial purposes aside courier and delivery service.
Per the regulations, the Driver and Vehicle Licensing Authority, DVLA cannot register a motorcycle or tricycle for commercial use.
Also, the riders cannot take money from a passenger as fare for a ride. Persons found liable faces up to 30 days in prison or a fine of not more than 25 penalty units.
Source: Kasapafmonline.com