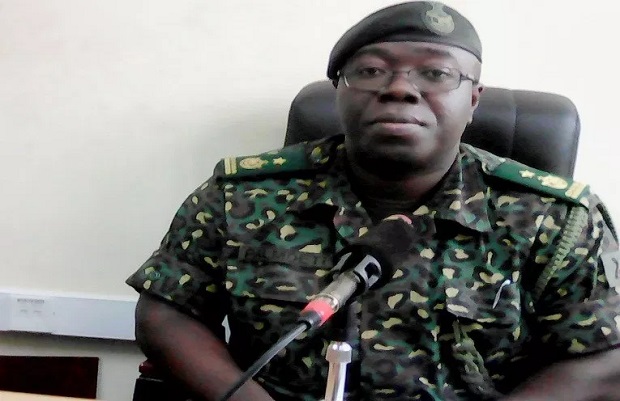 NIA Endorses Action Against Bad Staff
ACI Francis Palmdeti
The
National Identification Authority (NIA) has endorsed the action of a
registration supervisor when he spotted a staff engaging in an illegality.
The
authority's endorsement is in reaction to the arrest of a data entry staff of
the NIA after the anomaly was spotted by a registration supervisor.
According
to the Corporate Affairs Director of the NIA ACII Francis Palmdeti, in the
morning of Monday, 6th May, 2019, the NIA supervisor responsible for the
Abossey Okai Central Mosque registration centre arrived for duty and met Mr
Timothy Wuni filling out a registration form which was not part of his assigned
responsibilities at the centre.
He
said his assignment was the operation of a Mobile Registration Workstation
(MRW) which is used in capturing an applicant's personal data.  Suspicious of Wuni's conduct, the supervisor
investigated the matter and promptly reported his findings to the police who
duly effected his arrest; the police are still investigating the case.
Continuing,
he said "all NIA officials were warned during training about the consequences
of engaging in any acts of criminality," adding that "officials were also
instructed to promptly report any acts of criminality they may come across in
the line of duty to the police".
Continuing
with his narration about Timothy Wuni's conduct he said that the equipment
found in the said private residence belongs to the NIA.
He
however explained that the equipment is referred to as a Mobile Registration
Workstation used in capturing personal information of eligible applicants. He
was quick to add that the MRW on its own cannot be used to register and issue
cards to an applicant.
Before
a Ghana Card is issued, an applicant must go through an elaborate process preceded
with an interview by a registration official who then assists him or her to
fill an application form with the required personal details. This is then
followed by the keying in of the personal details of the applicant from the
completed application form including the scanning of additional documents.
Applicant's
biometric data finger prints among others is also captured by the MRW operator
after which a slip specifying the information captured is given to the
applicant to confirm accuracy of captured data before the card is printed out.
 "The said MRW equipment is in the custody of
the police and the NIA will cooperate and assist the police in their
investigations. The NIA will not shield any official who engages in crime. The
general public should also not shield NIA staff members who engage in any kind
of corrupt practice or crime.
"The integrity of the National Identification System is intact, and the authority will continue to ensure that the information captured into the National Identity Register will be protected from any kind of unauthorized access," the authority stated.
By A.R. Gomda