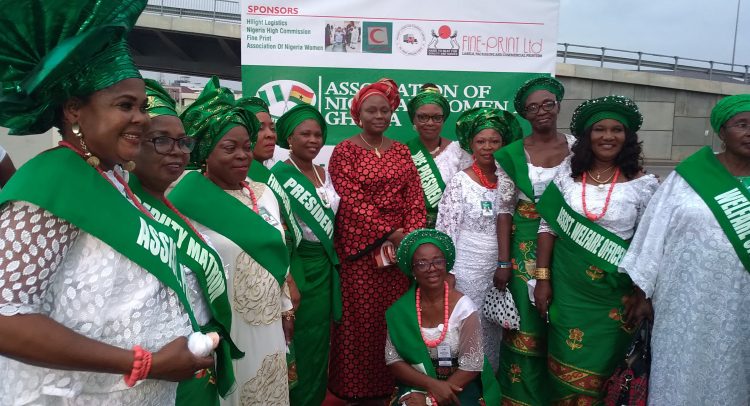 Nigerian Women Inaugurate Association In Ghana
Executives of the association in a pose with Margaret Abikoye (6th left)
Residing Nigerian women in Ghana have joined
forces to form an association that seeks to promote the welfare of its members
and also foster unity among women of various Nigerian communities living in
Ghana.
The association named, "Association of Nigerian
Women in Ghana", with the motto: 'Unity and Love', was duly inaugurated at a
ceremony in Accra on Saturday September 28, 2019.
The occasion was also used to outdoor new
executives for the association as well as honour hardworking individuals who
championed the goals of the association.
In attendance was the Ezeigbo of Ghana (Chief of
Igbo Community in Ghana), Dr. Chukwudi Jude Ihenetu Eze-Ohazurume I, as well as
the Nigerian High Commissioner to Ghana, Ambassador Michael Olufemi Abikoye,
who was accompanied by his spouse and patron of the association, Margaret
Abikoye.
Mr Olufemi commended members of the association
for their immense contribution towards the social and economic development of their
host country.
He however emphasised the need for the
association to work hard at mobilising more Nigerian women living in Ghana in
order to help women have a stronger voice and champion common goals in a coordinated
manner.
"Am going to appeal to our men to please allow
their spouses to join these wonderful women so they can do more for their
countries" he said.
He also urged the women to abide by the laws of
their host country, keep close ties with their home country and also focus on
the wellbeing of other young vulnerable Nigerian women in the country.
"You need to visit home regularly to see to the
development of the other side. When you are contributing to this great country
Ghana, remember that you need to contribute a lot at home too" he said.   
A former president of the association, Esther Chima,
called for unity by advising members to be forgiving towards one another and to
also disengage from all acts that might create division among the association.
The Vice President of the Association, Gloria
Torty, in an interview disclosed that the association was working at mobilising
more members and establishing various branches within communities across all
the regions in the country.
By Issah Mohammed