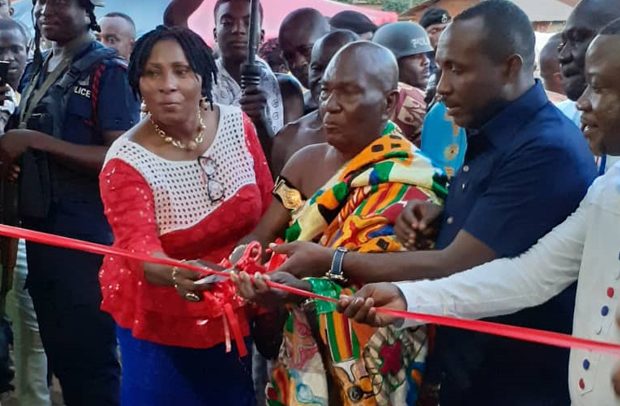 NPP Resources New Regional Offices
Mr. Boadu and the paramount chief commissioning the party office
The New Patriotic Party (NPP) has resourced offices of the party in the six newly created regions.
It has also commissioned one of its offices. The offices is at Busunya, the capital of the Nkoranza North constituency.
It was built and donated to the party by the Constituency Chairman, Emmanuel Amofah Asafo-Adjei, with support from the General Secretary and one Jacqueline Boatema Bonsu, a constituency patron.
Party General Secretary, John Boadi, commissioned the office on Sunday, September 22, 2019.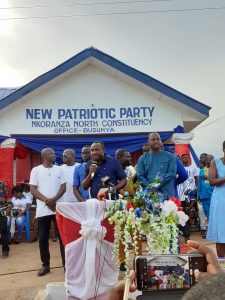 Mr. Boadu speaking at the ceremony
He also handed over new pickup to each of the six new regions through the regional chairmen of the party.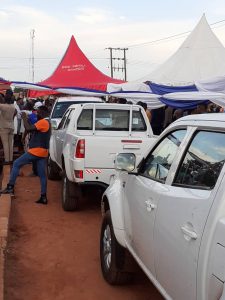 The pickups
In his remarks at a short ceremony to officially outdoor the office complex, Mr. Boadu commended the constituency chairman who doubles as the main financier of the project for the initiative and called on other members of the party to emulate this feat.
The NPP chief scribe also thanked the paramount chief of the area, Nana Okofo Gyaabah II and his subjects for their age-long loyalty and support to the electoral fortunes of the NPP.
Mr. Boadu charged the constituency officers and all persons that will be responsible for the upkeep of the office to rise to the occasion and make the best use of the office complex to derive maximum benefits.
To ensure the smooth operations of the office, he donated computers and other accessories to the constituency office and also supported them with an undisclosed amount of money.
BY Melvin Tarlue