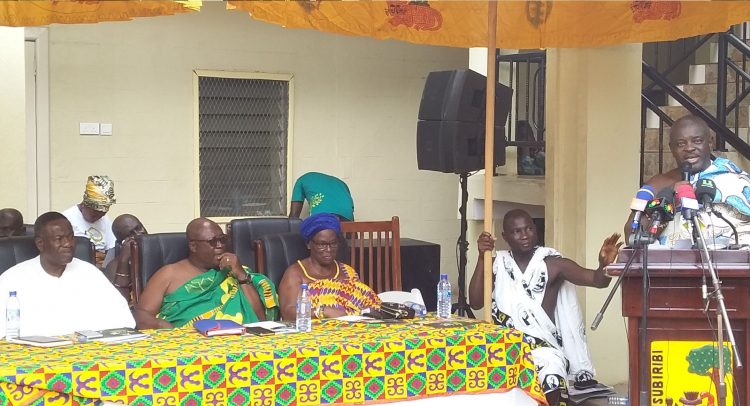 Okyenhene 20th Anniversary Unveiled
The high table
THE
Okyeman Traditional Council has unveiled a programme of activities marking the 20th
Anniversary Celebration of the ascension of Osagyefuo Amoatia Ofori Panin to
the Ofori Panin Stool of the Akyem Abuakwa State.
The anniversary programme — which has the general theme: "Serving the
People, Innovating for the Future" — was unveiled at
the forecourt of the Ofori Panin Fie at Kyebi in the Abuakwa South Municipal in
the Eastern Region.
During
the programme, Chief of Akyem-Tafo, Nana Adusei Peasah IV, who was the chairman
for the occasion, said the contributions of the Okyenhene towards the
development of Akyem Abuakwa and Ghana in general cannot be underestimated.
He said the Okyenhene's initiative called 'Operation Cover the Earth' which is targeted at planting 25 million trees in the next five years was doing great and that the Akyem Abuakwa overlord was passionate about the environment.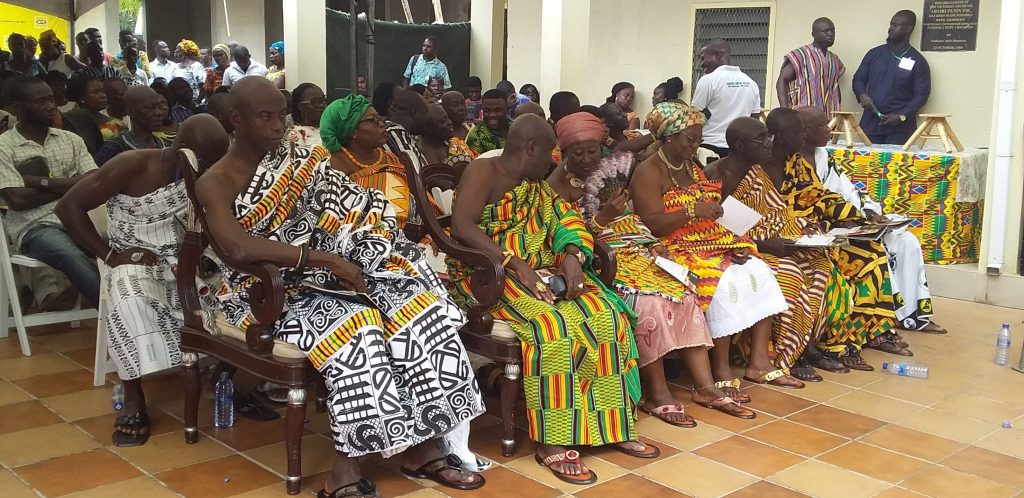 The audience at the launch of the 20th Anniversary
Chieftaincy Minister
The
Minister of Chieftaincy and Religious Affairs, Kofi Dzamesi, who delivered the
keynote address attributed the successes chalked up in the resolution of
various chieftaincy disputes in the Eastern Region to the sterling leadership
qualities of the Okyenhene who is the President of the Eastern Regional House
of Chiefs.
He
also commended the Okyenhene, together with the Asantehene, Otumfuo Osei Tutu II,
for working hand in hand to erase the perception that Akyems and Ashantis were
at loggerheads.
Achievements
The
Chief of Staff of the Okyenhene, Nana Twumasi Ankrah, outlined some of the achievements
of the Okyenhene and said his crusade against environmental degradation,
HIV/AIDS awareness, formal education for children and the establishment of a
tertiary educational institution continued to be prioritized.
History
Osagyefuo
Ofori Panin, known in private life as Odeshie Kwame Boakye Ofori, was enstooled
as the Okyenhene in 1999 after the death of his predecessor, Osagyefuo Kuntunkununku
II, who was his elder brother.                                 
He is the 35th occupant of the Ofori Panin Stool of the Akyem Abuakwa State, which was established by Atta Apeanin Kwaframoa Woyiawonyi in 1362.
FROM Daniel Bampoe, Kyebi