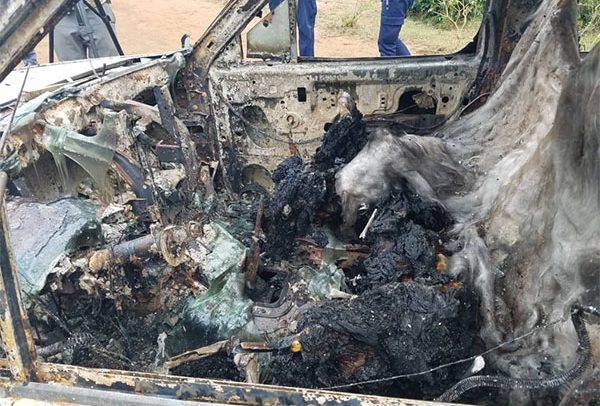 One Suspect Arrested Over Tsopoli Killings
The burnt vehicle
ONE PERSON has been apprehended in connection with the killing and burning of a family of three at Zutsukpo, a suburb of Tsopoli in the Ningo-Prampram District of Accra.
The suspect, Ali Kofi Sowunu, 60-year-old believed to be the nephew of the deceased, is cooling off in the cells of the Prampram police.
Confirming the arrest to DGN online, Deputy Superintendent of Police (DSP) Mohammed Issah Cantona, Prampram District Police Commander said the suspect allegedly threatened the deceased prior to his death over a yet to be establish misunderstanding that ensued between them.
According to him, police received a report about the threat and cautioned the suspect.
"Two Sundays ago, Mother of the deceased lodged a complaint against the suspect for threatening her son. He was said to have threatened the deceased that, he'll stop him from farming in the area and ensure he vacates the village."
The Commander said the suspect has been picked up to assist with investigation and safety.
"Some relatives of the deceased are threatening to revenge so we quickly pick this suspect for safety because we had information that some members of the deceased family are planning to revenge," according DSP Cantona.
He indicated that the suspect has however, denied his involvement in heinous crime.
Last Thursday night, a family of three were shot, set ablaze and burnt beyond recognition by unknown assistants at Zutsukpo.
They were said to have gone to fetch water at Tsopoli and were returning home when the incident occurred.
The deceased persons, Joshua Kwaw Koranteng Oman, Gladys Sophia Delali Tetteh and their son, Ackuaku Oman were shot and killed by the assailants who laid ambushed in the bush near their house.
The assailants after the killing, packed the three deceased persons at the front seat of the Nissan picked-up with registeration number GW 8970 V, which they were traveling with and set them ablaze that night at about 6:30 pm.
DSP Cantona said the suspect will be arraign before court after investigation.
From Vincent Kubi, Zutsukpo