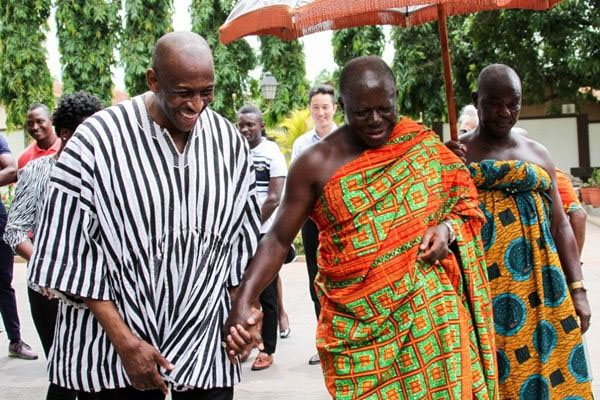 Otumfuo Remembers May 9 Victims
Otumfuo Osei Tutu II (right) with Herbert Mensah at Manhyia Palace
The Asantehene, Otumfuo Osei Tutu
II, has paid glowing tribute to the memory of 126 football fans who died at the
Accra Sports Stadium on May 9, 2001.
The Asantehene honoured the memory
of victims of the May 9 disaster when former Kumasi Asante Kotoko Chief Executive
Officer (CEO), Herbert Mensah, led a delegation to pay a courtesy call on Otumfuo
at the Manhyia Palace in Kumasi as part of activities marking the 18thanniversary
of the incident.
Mr. Mensah, who has been holding programmes
over the past 18 years to remember the May 9 victims, led a large number of
people in a walk in Kumasi to remember the 126 departed souls before visiting
the Otumfuo at his palace.
The Asantehene stressed the need for
the elimination of hooliganism and all forms of violence from Ghana's football
to prevent future occurrence of the incident in the country.
Otumfuo Osei Tutu II also lauded Herbert
Mensah for personally sacrificing his time and funds to honour the memory of
victims over the past 18 years. He entreated Herbert Mensah to sustain his
splendid work for the families of the May 9 victims.
Mr Mensah expressed elation that an
eminent personality like Asantehene, Otumfuo Osei Tutu II, had endorsed the
annual May 9 Walk.
The former Kotoko CEO, who was in
office when the 126 football fans died at the Accra Sports Stadium during a Hearts-Kotoko
league match, reiterated that "it is not proper for people to lose their lives
because of a football match and we will continue to create awareness on the
dangers of hooliganism during football matches."
As usual, Herbert Mensah presented
bags of rice, toiletries, soaps, washing powder and other items to some families
of the dead after the May 9 Walk.
"Although this gesture cannot
replace the huge vacuum that the demise of the 126 people had created in the
families, it's just to show our love and care for you," he remarked.