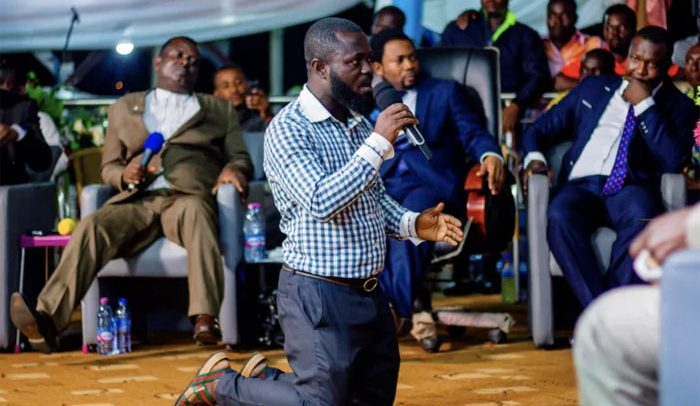 Pastor Begs Pastor Over Defamation
Owonta Nana on his knees at Bohye Prayer Camp
A popular Kumasi-based pastor and radio presenter with a large followership on the airwaves has pleaded for forgiveness from Elder Bismarck Amoah of the Bohye Prayer Camp fame for defaming him.
Elder Amoah, also known as Bohye, had started a campaign
condemning the sale of holy water, pomade and other spiritual merchandise in
the church and that attracted attacks from Owonta Nana.
Owonta Nana sat alongside Kwaku Antwi popularly called Rev.
Obofuor on the latter's radio station to attack Bohye for daring to touch the
controversial issue.
The presenter who reportedly used to work with Rev Obofuor started
a running feud with the prayer camp proprietor, mostly on the airwaves, having
accused Bohye of ungodly deeds and also saying he was not 'Coming from God.'
In a dramatic turn of events, a video has gone viral in which
Owonta Nana is apologizing profusely to Bohye to forgive him for any harm done
him.
Owonta Nana is said to have even gone to the Bohye Prayer Camp
in the company of others to ask for forgiveness from the man he has often
berated.
He reportedly pleaded for forgiveness on the church premises in
front of the congregation and explained why he made the harsh comments.
In reacting to Owonta Nana's apology, Bohye stated that he is
glad that the presenter had realised his mistakes and had asked for
forgiveness.
He said he had accepted the apology and advised his fellow
pastors and church members to also forgive Owonta Nana.