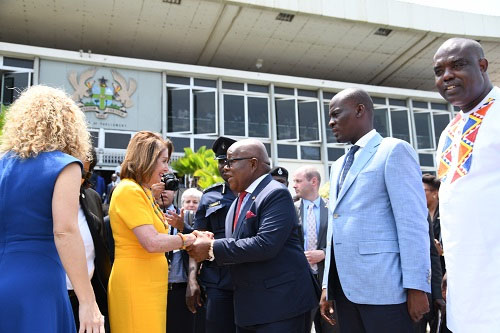 Pelosi Wows MPs
Emotional Nancy Patricia Pelosi, Speaker of United States House of
Representative, yesterday told Parliament that justice is the foundation of
hope and that the world must ensure that every person particularly the youth get
hope in the future.
Addressing Ghana's Parliament to round off a four-day visit by
U.S. Congressional Black Caucus, the US House of Representative Speaker, who
was almost swept off her feet by emotions after her visit to the Cape Coast and
Elmina castles, said there should be economic justice, social justice and
environmental justice for all irrespective of one's race, creed, belief and
social status.
She said she expects Ghana, the first African country south of the
Sahara with "Freedom and Justice" as its motto, to lead the crusade of ensuring
justice for all in all spheres of life.
"We must create educational and economic opportunities that allow
every student and worker to climb the ladders of opportunity especially for
women and girls," she said.
Tracing the genesis of the socio-economic and cultural
relationship between Ghana and the United States of America, the US Speaker of
House of Representatives said Ghana played a pivotal role in America's civil
rights movement, standing as the spiritual symbol and a source of great hope in
the fight against discrimination and segregation.
She said, on the other hand, America is also firmly committed to
economic progress in Ghana, a commitment enshrined and advanced through the
cause of the Millennium Challenge partnership and in the African Growth and
Opportunity Act (AGOA).
"Together our governments must continue to support smart
development strategies that spur sustainable economic growth and lift up all
families in Ghana and Africa.
"Our friendship endures because of our security cooperation to
keep the world safe. It endures because of our history, as we mark the 'Year of
Return' and it will endure because of our future," she said stressing that the
visit by the Congressional Black Caucus to Ghana will even forge even firmer
ties between America and Ghana.
She said there was the need for African countries to diversify
their economies and encourage trade throughout the continent so that Ghana as a
leader in intra-African trade can create the regional security and stability
necessary to achieve prosperity across West Africa.
Speaker Pelosi became very emotional in the course of her speech
to Parliament as she narrated their first experience to the Cape Coast and
Elmina castles, where the ancestors of African Americans were kept and first
sent into slavery in the US 400 years ago.
"…At Elmina Castle, we saw the dungeons in which thousands were
entrapped and at the Cape Coast Castle, we stood before
the 'Door of No Return' where countless millions caught their last glimpse of
Africa before being shipped to a life of enslavement," she said with a trembled
voice and a lot of emotions.
The Speaker of Parliament, Prof Mike Oquaye, thanked her and her delegation for their visit and for forging greater relationship between the Parliament of Ghana and Congress of US.
By Thomas Fosu Jnr