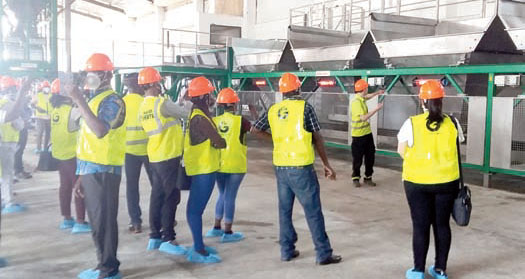 President C'ssions Asuboi 1D1F June End
The delegation at Glofert Limited
President Akufo-Addo is billed to commission the biggest
blending fertiliser plant under government's 'One District, One Factory'
initiative by the end of June this year at Asuboi in the Ayensuano District of
the Eastern Region.
Rev Foster Mawuli Benson, Chief Executive Officer (CEO)
of Glofert Limited, said the company, which has capacity to produce 24,000 tons
of fertiliser daily, has started receiving orders from state institutions for
onward supply to farmers across the country.
Rev Benson disclosed this when 70 officials from IFDC
International visited the blending plant at Asuboi to learn about its
operations.
According to him, poor agronomic practices and improper
application of fertilizers affect crop yields in the country.  
"We are in to offer tailor-made fertilizers or nutrients
solutions to the various farmers where we blend specific and that is the reason
why you see this huge edifice here. By far this is currently the biggest
fertilizer blending plant in Ghana. It blends 24,000 metric tonnes a day. We
are investing because we believe that is the best way to go," he said.
Asked why they chose Asuboi, he said they wanted to
provide farmers with more suitable fertilizers for their crops. 
He indicated that for the first time in Ghana, farmers are
going to use different types of fertilizers depending on the crops that would
be cultivated and the type of soil chosen for cultivation. 
Patrice Annequin, leader of the IFDC delegation, said
the team was satisfied with the operations of Glofert Limited and expressed the
hope that the company would assist farmers to enjoy the fruits of their labour for
a long time.
The 70 delegates were selected from 25 countries across the world.
From Daniel Bampoe, Asuboi