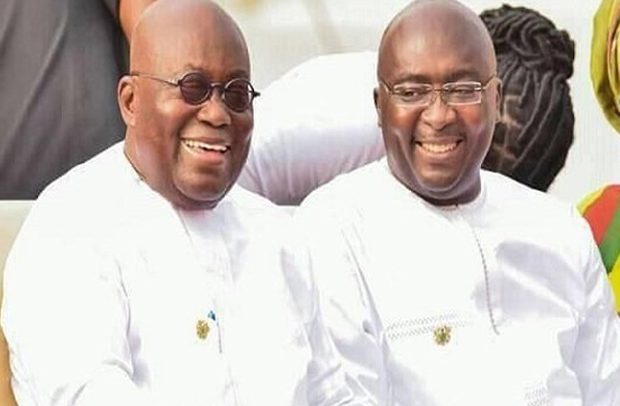 President, Veep Salute Women
President Akufo-Addo and Dr. Mahamudu Bawumia
President Akufo-Addo and his vice Dr. Mahamudu Bawumia yesterday joined the rest of the world in saluting mothers.
Yesterday, May 12 was used to celebrate womanhood and renew the bond between children and their mothers.
President Akufo-Addo, in a Facebook post yesterday, wished all Ghanaian women a happy Mother's Day.
"Happy Mother's Day to my lady Rebecca, to my daughters and all Ghanaian women," he said.
In a related development, the Rebecca Foundation, a non-governmental organisation led by the First Lady, Rebecca Akufo-Addo, has also wished all mothers well.
In a social media post, the first lady extolled the virtues of women as they continue to be the backbone of society.
According to her, biology is not the only thing that identifies a woman as a mother.
"Being a mother means being there, ever-present support and requires sacrifice. On this occasion, I wish all mothers a happy Mothers' Day," Mrs. Akufo-Addo said.
Veep's Wishes
The vice president, on his part, hailed mothers for their immense and priceless contributions to nation building and described them as "special and amazing."
"Mothers continue to be strong foundations in the development of our societies and country," Dr. Bawumia said in a brief Facebook post to celebrate mothers.
He said children are indebted to their mothers for their sacrifices, selfless love and support from childbirth to adulthood.
"Mothers, by giving birth to us, nurturing, sacrificing and caring for us, are truly amazing and special.
"I wish a happy Mother's Day to my mother, Hajia Mariama Bawumia; my wife Samira Bawumia; the First Lady, Mrs. Rebecca Akufo-Addo; former First Ladies Mrs. Fulera Limann, Mrs. Konadu Agyeman Rawlings, Mrs. Theresa Kufuor, Mrs. Naadu Mills and Mrs. Lordina Mahama; former Second Ladies Hajia Ramatu Mahama, Mrs. Matilda Amissah-Arthur and all mothers in Ghana," he stated in the post.