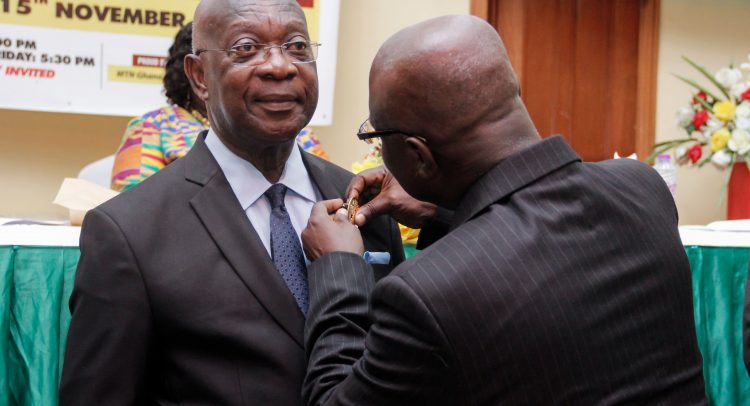 Prof. Adu-Gyamfi Inducted Into Academy Of Arts, Sciences
Professor Yaw Adu-Gyamfi being decorated with the Academy's medal
THE BOARD Chairman of the National Health
Insurance Authority (NHIA), Professor Yaw Adu-Gyamfi, has been inducted into
the Ghana Academy of Arts and Sciences (GAAS).
Professor Adu-Gyamfi was among eight renowned
academicians who were recognized and inducted into the Academy.
Testimonial
In a testimonial read in his honour, the
Consultant of Anaesthesiology was described as 'the consultant's consultant' for
his knowledge, skills and experiences in the health sciences as well as medical
and health services.
"You have been a leader in the fields of Anaesthesiology, intensive therapy and the management of complete pain status with particular reference to the challenges of resource-limited health care environments in the tropics," the testimonial partly read.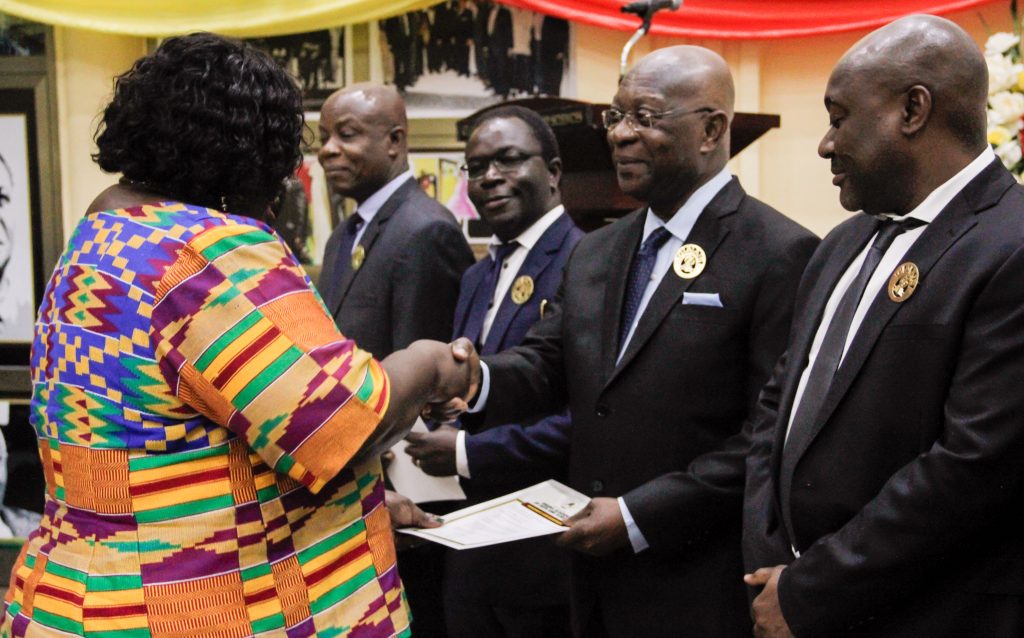 Qualifications
Professor Adu-Gyamfi is the founding Chairman
of the Faculty of Anaesthesia and Critical Care, a founding member of the
Executive Board and a Member of the College Council.
In December 2013, Professor Adu-Gyamfi received
an award from the College for Outstanding Achievements in Post Graduate Medical
Education and was elected into the Ghana Academy of Arts and Sciences.
He has also held consultant positions in
Anaesthesia in Kings College Hospital and Medical School, London; University of
Ghana Medical School and the Korle Bu Teaching Hospital.
Prior to his induction into the Academy, he was
a Fellow of the Ghana College of Physicians and Surgeons and the West African
College of Surgeons.
Other Inductees
At the same programme which coincided with the
Academy's 2019 Founder's Week celebration, other prominent scientists and
researchers were also inducted into the Academy.
They included Daniel Kwadwo Asiedu, Professor
of Geology at the University of Ghana (UG), Legon; David Kofi Essumang,
Professor of Chemistry at the University of Cape Coast (UCC), and Gabriel Ayum Teye,
Professor of Animal Sciences and Vice Chancellor of the University for
Development Studies (UDS), Tamale.
Others were George Obeng Adjei, Associate Professor
of Clinical Pharmacology, UG; Gordon Akanzuwine Awandare, Associate Professor,
Department of Biochemistry, Cell and Molecular Biology, Grace Ofori Sarpong,
Associate Professor, Minerals Engineering at the George Grant University of
Mines and Technology, Tarkwa and Julius Najah Fobil, Associate Professor, UG.
President of GAAS, Professor Henrietta Mensa-Bonsu, charged them to not 'go to sleep' with their medals but rather work hard to advance the course of theArts and Sciences.
By Nii Adjei Mensafio