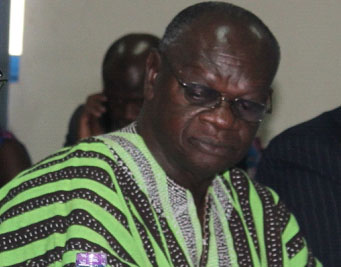 Public Officers Not Co-operating With Administrator-General
David Yaro
The
Administrator-General of Presidential Estate, David Yaro, has lamented the poor
cooperation from government agencies in compiling data on state assets and
properties.
According
to him, the non-compliance of some state agencies in providing data on the
acquisition of state assets was hindering the work of the Office of the
Administrator-General (OAG) which is charged with the responsibility of building
a comprehensive data of government assets for smooth transition of governments.
He
said following the transition process which took place in 2017, the OAG undertook
steps to ameliorate the shortcomings which included poor compilation of data on
state assets and properties.
In
view of that, Mr. Yaro said the OAG through the Office of the President wrote
to government agencies requesting them to join the Government Integrated
Financial and Management Information System (GIFMIS) for the proper capturing
of all procurement.
He
said the letter encouraged the agencies that were not on the platform to take
steps to get hooked up by the close of 2018 but as of now, some are still not
on the platform.
"We
are trying to ensure that the issues that we had after the 2017 election will
be a thing of the past. We took steps to build a comprehensive data management
system for government assets, but unfortunately the response has been very
poor," he said. "Once you are not on the platform and you make purchases it
will not reflect and so we cannot build up our data base."
He
said an appeal was also sent to the Ministry of Finance to serve the OAG with
copies of approvals granted to MDAs, RCCs, MMDAs to procure state assets and
properties.
"Therefore,
if we don't get the information from GIFMIS, we can use that letter to update
our records; sadly, the Ministry of Finance has also not bothered about it so
we have not gotten any response as of now," he stated.
The
Administrator-General of Presidential Estate further indicated that a request was
sent to the Driver and Vehicle Licensing Authority (DVLA) to also make
quarterly returns on any new registration of government vehicles "but to
date…nobody is minding my office."
He
expressed this concern at the opening of a day's workshop for assigned officers
of fixed assets at the various agencies under government machinery in Accra.
It
was to equip asset managers of the institutions with the requisite knowledge on
how to produce a credible database which the OAG can rely on for the compilation
of a comprehensive database for the country.
By Jamila Akweley Okertchiri & Nadia Nimako