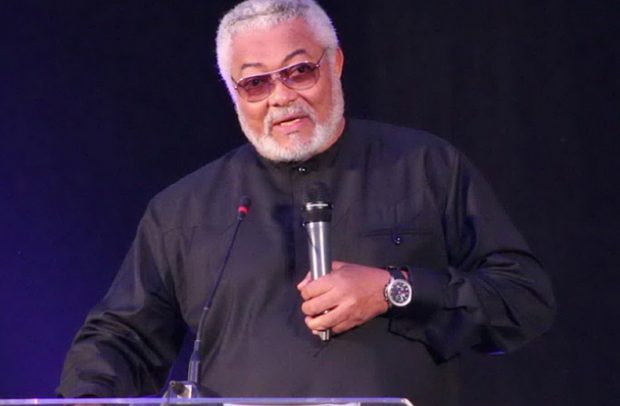 Rawlings Wades Into Sex For Grades Scandal
Former President Jerry John Rawlings
Former President Jerry John Rawlings has jumped into the sex-for-grade debacle saying that the anomaly can be addressed when transparency becomes a policy in the marking and grading of students during examinations.
The absence of this attribute, for him, is responsible for the myriads of challenges such as the abuse and humiliation of deserving students, notably victims of "sex for grades".
The prevalence of opaqueness in the current system of marking has paved the way for the upgrading of 'dumb ones', he said adding "this discourages hard work and devalues tertiary educational standards in the country."
"I will advocate external markers to look into remarking and examining those papers by some of those girls, especially the first class ones to see if some of their written works correspond with the marks they have been given," he stressed.
Mr. Rawlings made the remarks when he hosted executives of the Ghana Journalists Association (GJA) who paid a courtesy call on him and to invite him to the GJA Awards ceremony which is scheduled to take place on November 23, 2019.
He said that there was nothing more corruptible than breaking the moral fabric of the society as manifested in the manipulation of academic results to jeopardise the lives of innocent girls.
"You can't do this to a boxer; you can't do that to a man playing football because it is out in the field. We can all see his performance," he said.
He also lamented the gruelling experience some women encounter at workplaces as they are made to yield to sexual demands before given opportunities.
A BBC undercover report exposed some lecturers
The news broadcasting giant, BBC, recently released a controversial documentary that captured some lecturers in Ghana and Nigeria engaged in the "sex for grade" scandal.
The release of the documentary, Mr. Rawlings believed, was going to make the few bad nuts among lecturers more vengeful in plying their heinous trade.
He also raised concern over the current system of marking and grading in tertiary schools which he said smacked of injustice, as had been the case with recent mass failure of law school entry examinations.
"93 per cent failure and you think you can get away with blaming the students? And the small demo that they did resulted in the firing of water cannon and rubber bullets at them," he said.
By Issah Mohammed