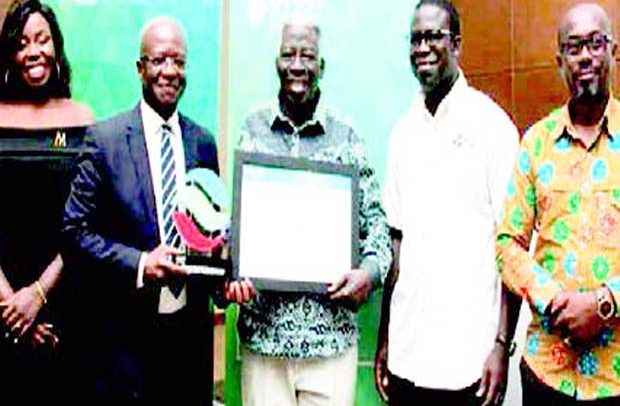 S.O. Frimpong Wins 4th Vivo Energy Award
Mr. S.O. Frimpong (middle) with the MD of Vivo Energy Ghana and others.
S.O. Frimpong Transport and Company Limited, a leading transportation service company in Ghana, has emerged the best transporter at the 2018 VIVO Energy Ghana Transporters awards.
This is the fourth consecutive year the company has won the highly coveted award, which honours excellence in the transportation industry.
The award is celebrated every year to honour the transporters of VIVO Energy, who undertake high risk activities while working safely and professionally.
It also forms part of the company's commitment to achieve the highest international Health, Safety, Security and Environment (HSSE) standards which make it stand out.
S.O. Frimpong is one of three companies which transport shell products across the country via Vivo Energy Ghana. It scored 5.50/5.50 (100%) in the 2019 Global Haulier Assessment Programme run by the Vivo Energy Group.
It is noteworthy that the company, together with the other two, also travelled a distance of nearly 56 million kilometres without any single accident – the ninth year running.
During the awards ceremony, Ben Hassan Ouattara, Managing Director of Vivo Energy Ghana, commended the partnering companies for working tirelessly for the country.
He said, "The success can be attributed to the quality, care and focus that you, our drivers, show every time you get behind the steering wheel. It is also as a result of a series of training programmes such as the Driver Training Accreditation and Global Haulier Assessment Programme that Vivo Energy Ghana continues to organise for its bulk vehicle operators that reinforce good driver behaviour on and off the road."
He reiterated the company's commitment to continue to make road transport safety one of its focused areas by using advanced technologies, saying "every day, on every journey, we must focus on road safety and continue to operate to the highest HSSE standards to maintain our industry leadership."
The Executive Director of National Road Safety Commission, May Obiri Yeboah, commended Vivo Energy and the transporters for their efforts in putting safety first before other activities.
She called for an 'all-hand-on-deck' approach to curb road accidents as she said about 1,200 people had lost their lives between January and June this year through road accidents.
Universal Engineering won the engineering category. Individually, Benjamin Teye Mensah won the aviation fuel category; Rashid Alhassan won the Bitumen category, while Emil Aklakutse and Samuel Sapate won the lubricant and white oil categories respectively. Emil Aklakutse was again adjudged the overall best driver.
BY Gibril Abdul Razak