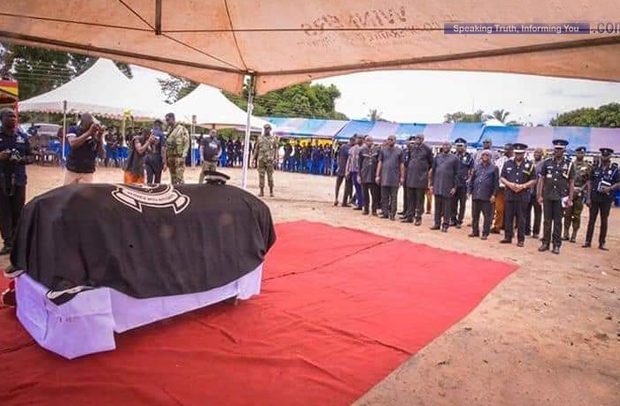 Sergeant Dzamesi Laid To Rest
Vice -President Bawumia and his entourage paying the respects to the late Sergeant Dzamesi
Vice-President Dr. Mahamudu Bawumia has paid tribute to Sergeant Michael Dotse Dzamesi, one of the two policemen shot and killed recently at Buduburam.
The Vice-President accompanied by Minister of the Interior, Ambrose Dery, and other top police officers, including the acting Inspector General of Police, Mr. Oppong-Boanuh, were at Dagbamatey in the Volta Region, where the burial service of the deceased took place over the weekend.
The lorry park in the town saw a scene of drumming and traditional music in honour of the late sergeant.
The Vice-President commended the late Dzamesi for his professional conduct and assured the family that government had plans of offering a special welfare package to the wife and children.
Dr. Bawumia restated the government's commitment to equipping the Police Service with the requisite logistics to protect human lives and property.
The brief burial service attracted so many friends and sympathizers to the town.
Spotted also at the service were the former Speaker of Parliament, Mr. Edward Doe Adjaho; the Volta Regional Minister, Dr. Archibald Letsa; and some government officials from the Volta Region.
The late Michael Dotse Dzamesi, 43, a driver and personnel of the Motor Transport and Traffic Department (MTTD), detachment of the Ghana Police Service at Kasoa in the Central Region, together with his colleague Awal Moahmmed, were shot and killed around Buduburam, near Kasoa in the Central Region, during their usual road checks.
He received a posthumous promotion to Inspector in recognition of his act of commitment and dedication to duty.
Tributes were read on behalf of the children, wife, and relatives of the late Inspector.
Eight suspects are currently on trial for the gruesome murder.