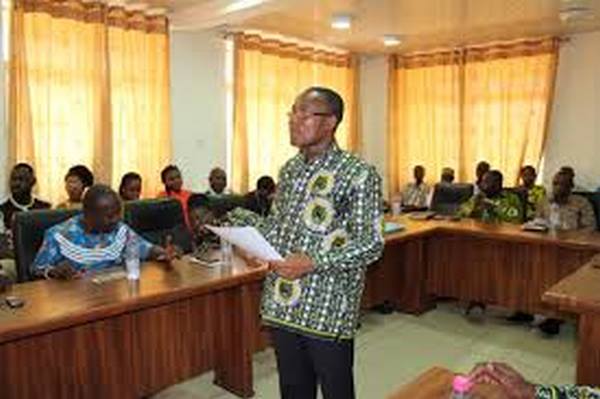 It is three o'clock in the afternoon and Jesse Nii
Noi Anum is going about his work at the Assembly with urgency, passion, and
gentleness. Some assembly members from different electoral areas in the
Municipality have come to see him to discuss pressing matters. A Staff brings
him documents for approval and as he takes a meticulous look at the details of
a document, he signs it with satisfaction. His phone has been busy all
afternoon but he ignores a number of incoming calls to remain attentive to his
guests.
Anum is the new Presiding Member of the Ga East
Municipal Assembly (GEMA) juggling a scope of responsibilities that stretch
beyond the white walls of his office on which portraits of his predecessors
hang gracefully.
When he could no longer pursue a career in
accounting and professional football, Anum followed his passion for community
work to serve at the local level at Haatso. After years of advocating for
change in the Haatso electoral area and demonstrating exemplary leadership, he
was elected as the assembly member. Three years later, he was voted to the
office of the Presiding Member.
"Fortunately for me, my friends saw something good
in me," Anum said. "They elected me to the office of the Presiding Member and
that has been my life."
The office of the Presiding Member (PM) is statutory
under the Local Government Act-1993 (Act 462). By this Act, the PM presides
over all assembly members and represents them at Municipal Assembly. As the
head of all members, the PM chairs the General Assembly and plays the role of a
Speaker.
Anum hails from Osu Kikan We in the Greater Accra
Region where he grew up. His father was an accountant working with the Ministry
of Defence and he wanted to follow his footsteps but that never happened.
After completing training in a management program,
Anum went on to work with the Center for Scientific and Industrial Research
(CSIR) as store attendant in 1991 but he did not remain in CSIR for long.
"My salary wasn't enough for me so I had to quit,"
Anum explained.
Out of CSIR, Anum discovered his passion for
football, his talent soon got the attention of big football clubs like Accra
Great Olympics. He trained with the team but his dream to play professionally
for the club never materialized.
"I really played good football, from basic to
secondary school levels, and I have played for a lot of teams," Anum said. "I
trained several times with Olympics though I never got to play any of their
professional matches because the club did not register me officially as a
player."
Soon, Accra Hearts of Oak became very interested in
Anum and wanted him on their side. But in the late 80s when arrangement was
made for his registration as a professional player for Hearts, disaster struck.
"I went on to play a match with another team a week
to signing with Hearts," Anum said. " I was terribly injured, my shoulder bone
dislocated from its socket and this ended my football career."
When his dream of playing professional football
died, he turned to another passion — photography.
"Since 1971, photography had been my hobby right
from secondary school and I took a lot pictures during school programs," Anum
said. "At the end of the day that became my work, Jackson's Photo studio at
Haatso is mine."
In the 1980s, after serving in the Boys Brigade as a
trumpeter, his dedication and service to the brigade was recognized by
President Hilla Limann.
"I was awarded a medal by President Hilla Limann in
1981 for my contributions to the Boys Brigade," Anum said. "I have kept that
medal till now."
Having dedicated his life to community services,
Anum was always involved in community activities using photography and video
productions to advance the course of the Haatso electoral area. Some of his
works have been used by TV3 and Ghana Television (GTV).
"I love social work and dedicated myself completely
to it," Anum said. "I use my photography skills to support community events."
In the year 2000, the government sought some people
from the Haatso Traditional Area to serve on some committees as representatives
of the Chief of Haatso, Nii Armah Sogblah.
At the recommendation of the chief, Anum was selected and he served on many committees including one at the National Commission for Civic Education.
As a Presiding Member, Anum also serves on other
committees such as the Public Relations (PR), Statutory, and the Audit
Committees at GEMA
The nature of Anum's position requires that he is
involved in many other strategic decision-making processes at the Municipal
Assembly.
"I can be called on at any time to make inputs into
decision-making processes at the different committee levels," Anum said. "This
work is about passion and a calling, if you do not have the interest in it do
not get involved."
Though a naturally calm and reserved man, his work
had pushed him to the point where he had become what he described as a
"talker".
"I am man of few words but I have now become what —
a talker— I didn't think I would become since I got into this office," Anum
explained.
As the Chairman of the Public Relations and
Complaints Committee of GEMA, Anum is represented by Okunyin Boaz
Orlan-Hackman, Public Relations Officer at the Assembly.
Orlan-Hackman described Anum as level-headed,
assertive, and a leader who knows his job and what he is about.
"He has a heart of tolerance and he is committed to
ensuring that the concerns of our clients are addressed," said Orlan-Hackman.
"As someone who chairs the General Assembly, he has vast knowledge on local
governance and he is apt for the job given to him."
The General Assembly is the highest decision making body in GEMA and the Presiding Member is the head of the body. Anum knows that constant learning and exposure to relevant information will keep him on top of issues at the GA. He seeks ways for self-improvement at the least opportunity that presents its self.
"Sometimes, when I am alone, I pick books and read,
"said Anum. I have my books by me always."
According to Andrew Tamatey, a Nation Builders Corp Service person at GEMA, if there is anything he would pick from Anum's life and apply in his own life, and then it will be Anum's style of getting around tough situations and his time consciousness, dispelling the negative notion of lateness many people hold about government workers.
"I have never seen PM (Presiding Member) angry
before irrespective of the situation," said Tamatey. "He knows how to approach
situations, whether favorable or unfavorable, and he is punctual as well, I
will take these two from his life."
Source: Fidel Tetteh/Department of Communication Studies, University of Ghana.