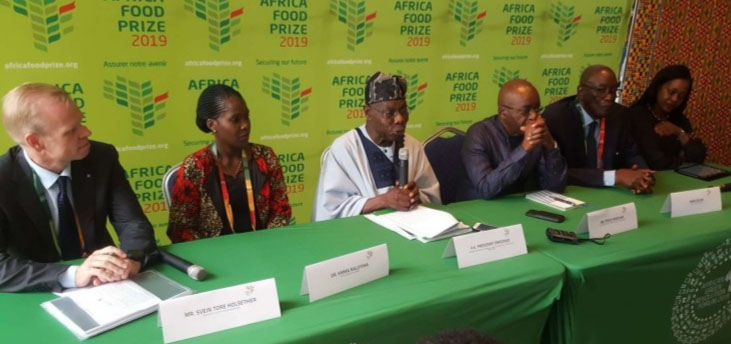 Smallholder Farmer, Agric Policy Advocate, Share 2019 Africa Food Prize
The African Food Prize Panel at the announcement ceremony.
 
Dr. Emma Naluyima of Uganda and Baba Dioum of Senegal have been named joint winners of the US$100,000 Prize at the 2019 African Green Revolution Forum ongoing in Accra, Ghana.
 
Dr. Naluyima, a smallholder farmer and private veterinarian, and Mr. Dioum, a policy champion and agricultural entrepreneur were recognized for their remarkable achievements in demonstrating and promoting innovative and sustainable growth in Africa´s agriculture through improved resource use and market links.
 
Rather than pursue a promising institutional career, Dr. Naluyima quit employment to become a farmer, transforming her one-acre plot into a showcase of profitable and environmentally friendly agriculture.
 
The secret to her success is innovative integration of crop and livestock production, based on recycling of farm resources to provide natural fertilizers and pesticides as well as biogas.
 
Dr. Naluyima, who generates $100,000 a year from her farm, also hosts up to 10,000 visiting farmers to share knowledge through her advisory service.
 
Also a prosperous farmer, Baba Dioum has excelled in the policy sphere, leading to the introduction of key reforms in the agriculture sector of his own country, before taking on influential roles in regional and Africa-wide policy development.
 
With a knack for fostering dialogue and commitment, Mr. Dioum successfully promoted cross-border agricultural trade in West Africa and helped significantly to advance the trade dimension of the Comprehensive Africa Agriculture Development Programme (CAADP).
 
H.E. Olusegun Obasanjo, former President of Nigeria, who chairs the Africa Food Prize Committee, congratulated Dr. Naluyima and Mr. Dioum on behalf of other Committee members, praising them for their courage in defying the status quo to open new pathways toward more prosperous agriculture, and for their solidarity with many others who wish to follow in their footsteps.
 
"What most strikes me about this year´s winners is how their academic and professional success has gone hand in hand with their success as farmers," said H.E. President Obasanjo. "Rather than turn away from the countryside like so many others, they have embraced farming, using their talents and knowledge to demonstrate its enormous commercial possibilities. In other words, they practice what they preach, and this lends real credibility to their message about the value of technical and policy innovation in agriculture."
Dr. Agnes Kalibata, president of the Alliance for a Green Revolution in Africa (AGRA), another key supporter of the Africa Food Prize, expressed her delight with this year's outcome saying the lives and accomplishments of these winners reinforces  her optimism that Africa is on the cusp of a new era of growing prosperity, driven by sustained agricultural transformation.
 
"Achievements like theirs can, in turn, leverage digital transformation, which is the focus of this year´s Africa Green Revolution Forum (AGRF)," she said.
By Jamila Akweley Okertchiri