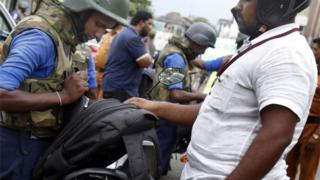 Sri Lanka has revised down the death toll from Sunday's blasts by more than 100, to "about 253", the health ministry says.
It has blamed a calculation error.
Suicide bombers struck hotels and churches in the Colombo area and the eastern city of Batticaloa. Hundreds were injured, officials said.
Most of those killed were Sri Lankans, but dozens of foreigners were also casualties, officials said. There were a suspected nine attackers.
Police have continued carrying out raids and have issued photographs of seven people wanted in connection with the attacks.
In other developments:
Sri Lanka's defence secretary announced his resignation on Thursday in response to failures in passing on intelligence
The country's Catholic Church has announced the suspension of all church services
Police say more than 70 people have now been arrested
It emerged that one of the attackers once studied in the UK and Australia