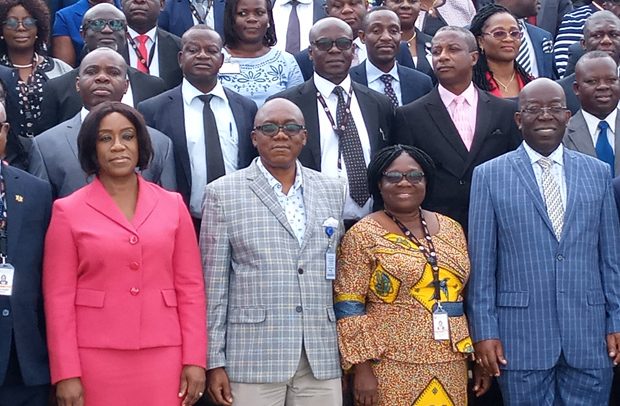 SSNIT Pays GH¢1.7bn To Pensioners
The Social Security and National Insurance Trust (SSNIT) says it has paid a total of about GH¢1.7 billion to the over 200,000 pensioners on the pension payroll as at July 2019.
The Trust, however, projected that the figure might increase to about three billion Ghana cedis by the end of the year.
The Director – General of SSNIT Dr John Ofori – Tenkorang disclosed this during the annual Operations Conference of the Trust held at Elmina in the Central Region.
The conference which was attended by Executives, Departmental Heads, Area and Branch Managers of the Trust was to deliberate on issues bordering on the operations of the Trust.
It was also to discuss current issues, review performance, proffer solutions and come up with new operational policies that would ensure the growth and assurance of the SSNIT scheme.
He indicated that with the increasing pensioner wage bill, there was the need to adopt innovative strategies to increase contributions collections and reduce operational and administrative expenses to help sustain the scheme.
He also noted that SSNIT had been able to reduce the average benefits processing time from 21 days in 2018 to the current 17 days as at the end of July this year.
The Director – General of SSNIT disclosed that the Trust would no longer be paying the 25 per cent optional lump sum to pensioners from January 2020.
Dr Ofori – Tenkorang explained that the 10-year transition period for the National Pensions Act, Act 766, would end December 31, 2019.
"This means that from January 2020, all workers who turn 60 years will have their benefits processed in the National Pensions Act 766".
"Consequently, the Trust will increase payment of the 25 per cent optional lump sum benefit to pensioners who qualify. Under the Act 766, lump sum payment will be done by tier-two fund managers", he noted.
He, however, mentioned that SSNIT would pay past credit to members who had contributed to the scheme prior to January 2010.
Mrs Laurette Korkor Otchere, Deputy – Director General at SSNIT, mentioned that the management of the Trust would soon publish the names of highly indebted companies and their directors in the media.
She added that there was the need to engage people in the informal sector and get them to appreciate the social security scheme and voluntary contribute towards their retirement.
Mrs Elizabeth Aggrey – Ampiah, General Manager, Finance at SSNIT who chaired the conference urged the participants to continue to find innovative ways of enrolling more people onto the scheme.
She also charged them to ensure that those already on the scheme were fully compliant.
From Emmanuel Opoku, Elmina