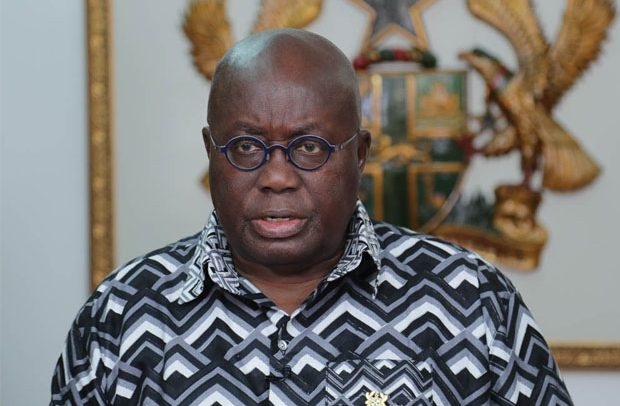 Stop Smuggling Fertilizers -Nana
Nana Addo Dankwa Akufo-Addo, President of The Republic Of Ghana
The President, Nana Addo Dankwa Akufo-Addo, has made a passionate appeal to farmers to desist from smuggling subsidized farming inputs, especially fertilizers, to neighbouring countries.
There have concerns about the spate of smuggling of the inputs to mostly Burkina Faso and Cote d'Ivoire for sale at cheaper prices at the expense of the Ghanaian taxpayer.
President Akufo-Addo made the disclosure last Friday when members of the Cocoa, Coffee and Shea Farmers Association (COCOSHE) called on him at the Jubilee House.
The President made reference to a story in one of the local newspapers which said that as much as 50,000 bags of fertilizers had been smuggled out of the country.
"I want to make an appeal to you; we take your taxpayers money to subsidize fertilizer and inputs," he said, adding "it's not correct that a few people for their selfish interest will then take this, which is being subsidized by the hardworking sweat of Ghanaian farmers to go and smuggle it to Burkina Faso and smuggle it to Cote d'Ivoire; it is not right!"
The President said "we are hurting ourselves; the fertilizer subsidy is not coming from Akufo-Addo's personal pocket. I don't have that kind of money; it's not coming from my pocket!"
"Rather, it's coming from the coffers of the state…and then a few people, a few criminal elements because they want to make money, would then smuggle this across the borders," he added.
Public Vigilance
"So I want you to work with me and my government to stamp out the smuggling of fertilizer in our country," the President told the farmers.
He used the opportunity to thank Ghanaian farmers for their support in the fight against illegal mining, also known as 'galamsey.'
The President said doing the right thing to protect the environment, particularly water bodies, would not cost him the next election, adding "I have a responsibility to Ghanaians today and tomorrow to make sure that galamsey is defeated; people are polluting out water bodies, people are devastating our landscape, if we allow them continue, 10 years from now we will wake up and we will not have a country anymore, we can't afford to let that to happen."
He said the joint military-police operation against the menace dubbed: 'Operation Vanguard' would continue despite the fact that some people are not comfortable with the exercise.
Meanwhile, President Akufo-Addo has hinted that a state institution called the Tree Crop Development Authority, whose focus would be on shea, coffee, rubber, mango and coconut, would be established to provide strong institutional support for farmers in the industry.
Spokesman for the group, Alhaji Imoro Issifu Alhassan, also raised concerns about the price of cocoa and requested lamps and mosquito nets to aid their work.
The President tasked Chief Executive Officer (CEO) of the COCOBOD, Joseph Boahen Aidoo, to ensure the provision of solar lamps and mosquito nets to the farmers.
By Charles Takyi-Boadu, Presidential Correspondent