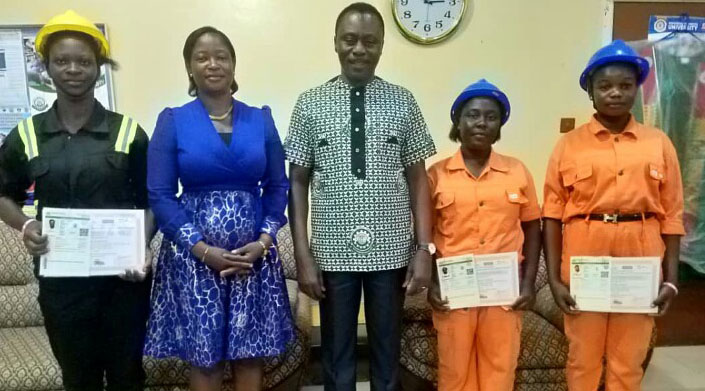 STU Female Students Train On Tractor Handling
Three female students displayng their certificates
Three female students
of the Department of General Agriculture of Sunyani Technical University (STU) have
undergone training to properly handle tractors as part of
the mechanization training programme at Wenchi Farm Institute in the Bono
Region.
The programme,
organised by Ministry of Food and Agricultural, was funded by German
International Cooperation (GIZ) on the theme, 'Women in Tractor Operation,
Maintenance and Management Training.'
Sixty women drawn
from various women farming groups, including three from STU, were equipped with
skills to operate and manage agricultural machinery to improve productivity.
The trainees were
taken through practical training in harrowing and ploughing, among others.
At the end of the
training programme, the women are expected to use the machinery effectively.
Diana Morgue, the
facilitator of the programme, stated that the Agriculture Department of STU, is
to train students to venture into farming after their studies.
The beneficiaries
are Kusan Jochedel, Owusu Darkwah Abigail and Obeng Poku Angela.
Speaking to DAILY
GUIDE after the programme, Obeng Poku Angela, expressed satisfaction with
the Ministry for Food and Agriculture for given women in agricultural the opportunity
to improve their skills.
She said that if
the programme is extended to more women in agriculture, it would increase food
production since there are more women in the agriculture sector than men in Ghana.
The Vice Chancellor of STU Prof Kwadwo Adinkrah Appiah congratulated the students for successfully completing the programme, saying, "It will enhance women's productivity in agriculture production and eliminate the use of hoe and cutlasses in farming which is laborious and retrogressive."
fiifiyorkeprince@gmail.com
From Prince Fiifi Yorke