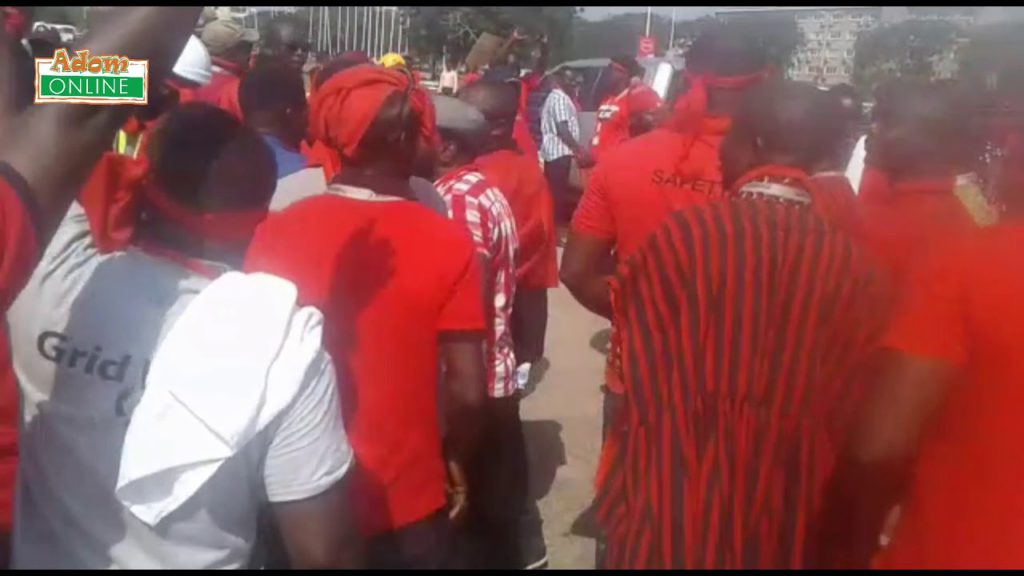 Hundreds of Ghana Grid Company (GRIDCo) staff have hit the streets Tuesday to protest huge debts owed the company by the distributors of the power they transport.
Agitated staff of GRIDCo who have massed up at the Black Star Square Tuesday morning to begin the protest marched to the Finance Ministry and later to the Electricity Company of Ghana (ECG) office in Accra.
The staff say as of March 1, 2019, ECG's outstanding debt to GRIDCo stood at GH¢607 million and another GH¢94,204,903.17 while VALCO owed it GH¢32,567,974.05 as well as a debt of GH¢177 million owed by NEDCo as at September 30, 2019.
Clad in red and black attires, the protestors brandished placards with various inscriptions to drum home their concerns.
The GRIDCO leadership has been pushing for millions of debts owed it by ECG, the Northern Electricity Distribution Company (NEDCo) and the Volta Aluminum Company (VALCo) to be settled.
ALSO READ
President of the GRIDCO senior staff association, Raphael Konor said they were demanding from the Finance Ministry, what became of some 250 million cedis president Akufo-Addo assured management of the power transmitter the ministry was to pay them.
He said since they declared their intention to "strike", none of the affected companies has reached out to them over the accumulated one million cedi debt.
He, therefore, called on the government to, as a matter of urgency, settle the ECG and VALCO indebtedness to GRIDCo which he says has stalled some new projects being undertaken by the company.
The association said if by close of work on December 4, the debts were not cleared, they would embark on a sit-down strike and impress upon their management to cut power supply to all customers who are indebted to it.