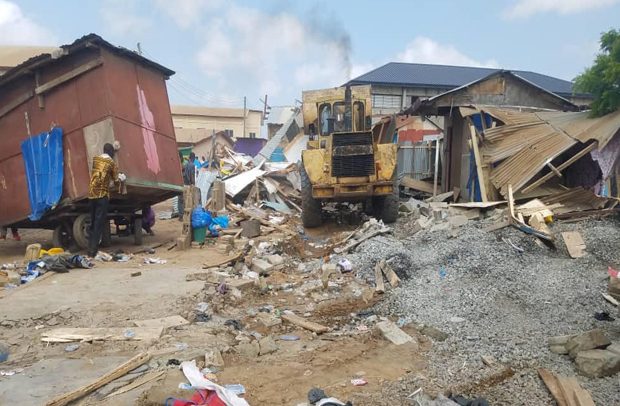 TWMA Demolishes Structures At Tema Kiosk Estate
Bulldozers pulling down the structures.
OVER TWO-HUNDRED unauthorized wooden structures have been pulled down at Kiosks Estate, a popular slum in Tema of the Greater Accra Region.
Several families were rendered homeless as a result of the about four-hour exercise last Wednesday on a land earmarked for road construction.
The project stretches from Community 3 through to Community 18.
The exercise which was conducted by officials from the Tema West Municipal Assembly (TWMA) left many squatters stranded, some of whom packed some of their belongings along the Accra-Tema motorway thereby causing huge vehicular traffic on the expressway.
Some squatters, mostly artisans who spoke with DAILY GUIDE were angry about the tactics the city authorities adopted to eject them although they admitted that the city authorities served them notices of the exercise.
They said they expected the assembly to conduct the exercise with human face by mappinng out a resettlement plan before any demolishing exercise was carried out.
Presiding Member of the Tema West Municipal Assembly, Kwasi Poku Bosompem later debunked the claims and said ample time was given to them to move.
"Check most of the structures here and you will see there is notice for more than three months to vacate the area but some of them failed to comply," he said.
He also said that the springing up of the make-shift structures posed a threat to the environment as well as a security threat to motorists and residents of the area.
According to him, the Assembly had resolved to streamline the placement of containers in the municipality and where possible, eject those who were illegally occupying such unapproved structures.
He noted that the assembly would also go after landowners who have failed to develop their land for the purpose for which they acquired them.
From Vincent Kubi, Tema