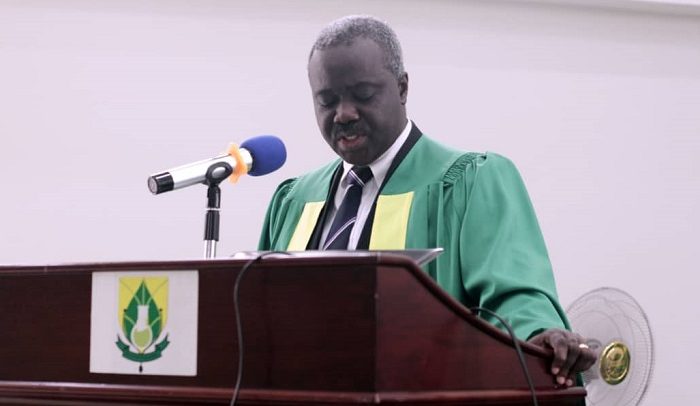 UHAS Invites Investors To Deal With Infrastructure Challenges
Professor John Gyapong
The
University of Health and Allied Sciences (UHAS) in Ho in the Volta Region has
made an open invitation to investors to invest in the university as opportunities
abound in the area of infrastructure and transportation.
The
Vice-Chancellor of the university, Professor John Gyapong, who made the call, said
although UHAS was one of the youngest public universities in the country, it
had boundless opportunities for investors who wanted good returns on their
investment.
The
University of Health and Allied Sciences was established by an Act of
Parliament (Act 828) in December 2011 with first admission of 154 students in
2012. The student population currently is close to 4000 with over 600 staff.
The
statistics according to the Vice-Chancellor came with huge challenges which are
actually an opportunity for investors and entrepreneurs, especially in the area
of accommodation and transportation as the university runs a multi campus
system.
Speaking
at the matriculation of 979 sandwich students of the university over the
weekend, Professor Gyapong gave an assurance that despite the challenges, they
were exploring strategies to enhance existing infrastructure to provide
conducive environment for teaching and learning.
Sharing
in the plight of the students, the Vice-Chancellor said, "We are conscious of
the challenges you are facing regarding the transportation situation…we assure
you that we are working seriously" to improve the situation.
A
Real Estate Broker, Gabriel Anku, had told DAILY GUIDE that the establishment
of UHAS had increased the accommodation deficit in Ho and at Hohoe to the point
that "if accommodation for 200 people is built today, it will still not be enough
to deal with the problem."
Prof.
Gyapong advised students to put the existing infrastructure and facilities to
good use and pass with distinction.
He
urged them to be disciplined and cautioned them against examination malpractices
as culprits would be dealt with according to the statutes of the school.
He also advised students to build valuable relationships that would have a significant effect on their studies and career.
From Fred Duodu, Ho (k.duodu@yahoo.com)