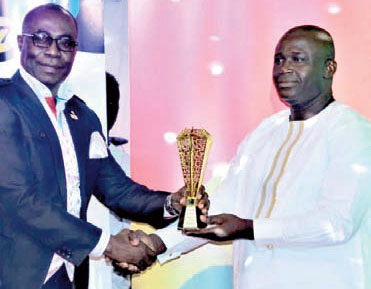 Ukrainian Varsity Honours Frank Adjei
Frank Adjei (right) receiving a citation from Dr. Osei Konadu Brown prior to the conferment of the honour
The Ternopil
National Economic University, Ukraine, is set to confer an honorary doctorate
degree on Kumasi businessman, Frank Adjei, at a ceremony to be held at the
Kwame Nkrumah University of Science and Technology in Kumasi next month.
The decision is
in recognition of Mr Adjei's  
contribution towards the founding of the Ghana National Chamber of
Banker to Banker Lotto Operators and Agents, Lotto and Lotteries Company
Limited, and National Association of Private Lotto Operators and Agents in
Ghana ventures which have created employment for many in the country. He has
employed over 350 lotto agents and 100,000 lotto writers across Ghana.
"Notwithstanding,
your loyalty to support the orphanages, schools, deprived communities, villages,
fellow businessmen and women, and also giving scholarships to students within
and across boundaries has today earned you this honour.
"You are a
worthy model magnate, a well-founded philanthropist and a beacon of hope to the
Ghanaian and the entire African continent," are citations crafted by the
tertiary institution.  
Frank Adjei is
a household name in the lotto industry and chairs the National Association of
Private Lotto Operators and Agents of which he is founder. He is also into commerce,
real estate, hospitality, transport, and entertainment industry.   
As a philanthropist, he has touched so many lives with his
generosity, providing scholarships for the needy but brilliant students,
supporting churches, fellow businessmen, women, orphanages, schools, deprived
communities and villages.
He said the
honour would encourage him to do even more for society.
The citation
has already been presented to him by Dr. Osei Konadu Brown, Pan African Sickle
Cell Ambassador. Other prominent personalities would be honoured during next
month's ceremony in Kumasi.