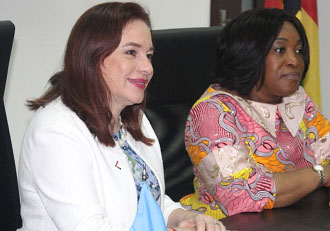 UN Assembly President Makes Case for Multilateralism
Maria Fernanda Espinosa Garces (R) with Minister of Foreign Affairs and Regional Integration, Shirley Ayorkor Botchway
The President of the 73rd United
Nations (UN) General Assembly, Maria Fernanda Espinosa Garces, has stressed the
importance of an alliance of multiple countries pursuing a common goal for
solving global economic and social challenges.
She said it was through such groupings that the
UN formulated some of the life-transforming agreements in history.
"The Paris Agreement on Climate Change, the Global
Compact in Migration and Refugees, and the Sustainable Development Goals are
all from multilateral agreements. I can give you examples of how much this
normative policy-making role of the UN really makes a difference for people
around the world," she said.
"I think that Ghana is a living example of how
important it is. It is the only system we have and the only way to tackle
global challenges," she added.
Speaking to journalists at the Ministry of
Foreign Affairs and Regional Integration in Accra as part of her four-day
official visit to the country, the UN official lauded Ghana's commitment to
Sustainable Development Goals  (SDGs)
particularly gender equality.
Her visit is aimed at fostering 'close
engagement' with relevant national stakeholders on issues of relevance to the UN.
It also aims to bring the UN General Assembly
closer to governments and people and to strengthen political support for
multilateralism in the implementation of the global commitment, including
climate change and the SDGs.
After a closed-door meeting with the sector
minister – Shirley Ayorkor Botchway – the UN official said: "Looking at the
data and the numbers, Ghana is doing well in gender equality; . . . I think that
there is a reason why your President was declared a gender champion".
She also commended the country for its strides
in making education accessible for all. "It is commendable how much this
country is committed to quality education … and the establishment of
affirmative policies to protect the most vulnerable and the poorest of the poor.
This is truly a good example that should be looked at by the entire African
continent and by the whole world and I hope my visit will help bring this to
the fore," H. E. Garcia said.
On her part, Ms. Botchway reaffirmed Ghana's
commitment to the principles enshrined in the Charter of the United Nations and
to the attainment of its laudable objectives.
"Ghana is committed to the attainment of the goals, especially with President Akufo-Addo as co Chair of the Group of Eminent SDG Advocates. The SDGs have been fully aligned with Ghana's national budget and medium-to-long term development plans," she indicated.
By Jamila AkweleyOkertchiri