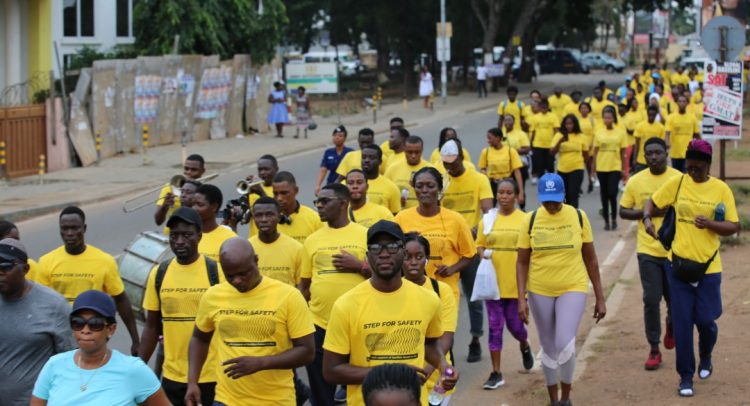 UNHCR Steps for Safety
The United Nations High Commission for Refugees (UNHCR) last Saturday organized a walk in solidarity with the over 24 million people who have been forced to flee their homes across Africa.
Dubbed 'Step for Safety,' the walk took-off from the Accra polo court through the streets of the Airport Residential area and back to the Accra polo court.
It was also to amplify support and awareness for refugee response in the region.
It also formed part of the UN Refugee Agency's LuQuLuQu campaign that aims at inspiring collective action, cooperation and solidarity to address the issues resulting from forced displacement in Africa.
UNHCR Representative for Ghana, Esther Kiragu, in her speech after the walk, expressed her gratitude to the partners and Ghanaians who came out to show their support by walking to send a message to the millions of refugees that, they are not alone.
"There are over 25 million forcibly displaced persons in Africa alone. In Ghana, there are over 13,000 refugees living in the urban areas and in the 4 camps Egyeikrom, Krisan, Ampain and Fetentaa," she said.
Madam Kiragu said the LuQuLuQu campaign seeks to raise awareness of the plight of refugees and to positively change the narrative of who a refugee is perceived to be.
"A refugee is not a burden or a dependent but rather someone with capabilities and skills and can contribute to the economy of the country they find themselves in.
Refugees are agent of development. The approach should therefore be one of inclusion in the national development plans in line with the theme of Agenda 2030 of leaving on-one behind." she noted.
She said LuQuLuQu also fundraises for the millions of African families who have been forced to flee their home.
The first 'Step for Safety' walk was held in Kenya in 2018 and since then has been organized in Senegal, Burkina Faso, Somalia, South Africa and Ghana.
Saturday's walk was the second time it has been hosted in Ghana. After the walk, participants will witness a simulation of the refugee journey portrayed by refugees living in Ghana.
By Jamila Akweley Okertchiri