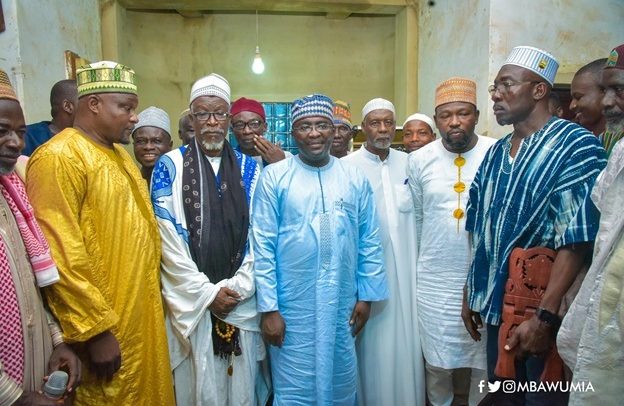 Veep Calls For Religious Tolerance
Vice President Dr Bawumia with some Muslims during his Ramadan tour in Ashanti Region
Vice-President
Dr Mahamudu Bawumia has called for enhanced religious acceptance and unity in
the country in the pursuit of collective national development.
He
made the call when he joined his fellow Muslims in the Ashanti Region to pray
for Ghana in the holy month of Ramadan, urging
people to pray for peace and support nation-building agenda of government.
For him, peace is
a priceless commodity that ought to be religiously safeguarded to ensure
development, pointing out that some nations are envious of Ghana's peace.
His visit took
him to the Asafo Ahmadiyya Mosque, central mosques of Ejisu and Konongo and
other Muslim communities.
The visit formed
part of his Ramadan tour across the 16 regions of the country.
Dr. Bawumia asked
all Muslims to seek knowledge since the Holy Quran acknowledges knowledge
acquisition as a means to development. 
He urged Muslim
children to take advantage of the Free Senior High School (SHS) programme to
acquire knowledge, noting that the Akufo-Addo administration has made secondary
education accessible to all Ghanaian children. 
The Vice-President
said government had also reduced the domestic and
industrial electricity tariffs by 17.5 per cent and 30 per cent respectively
to bring relief to consumers, saying the move had impacted positively on all
the citizens. 
Dr Bawumia explained government's policies and programmes such as 'Planting for Food and Jobs (PFJ)' when he interacted with the chiefs and people of Ejisu and Konongo.
From Ernest Kofi Adu, Kumasi