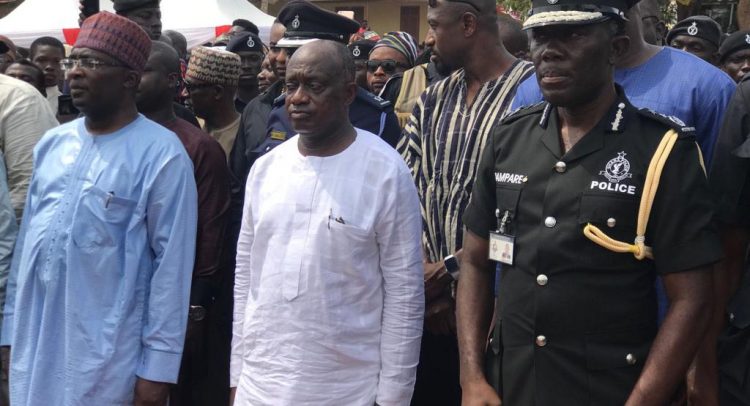 We Shall Hunt Killers -Veep
From left: Alhaji Boniface Saddique, Vice-President Dr. Mahamudu Bawumia, Simon Osei Mensah and COP/Dr. George Akuffo Dampare paying their last respects as the l ast post is sounded during the funeral/burial service yesterday
Vice-President Dr. Mahamudu Bawumia has
promised that the police will go after those who kill law enforcement officers.
He gave the promise yesterday during the
Islamic funeral and burial service of one of the two police officers who were
gruesomely murdered last Wednesday at Budumburam, near Kasoa.
"We are going to go
after the attackers. In this particular case, three persons were arrested a few
hours after the incident and one of the suspects is on the run. Those who have
been arrested will face the full rigours of the law, and those still on the run
will be relentlessly pursued," he stressed.
Continuing, the Vice-President
said, "They can run but they cannot hide. Insha Allah, we shall get all of them."
Family
Donation
The solemn religious service at Abuakwa,
near Kumasi, saw Dr. Mahamudu Bawumia, who is also the Chairman of the Police
Council, donating an amount of GH¢5,000 to the father of the deceased and same
amount to his spouse.
He said government was very much disturbed by what happened on Wednesday, August
28, leading to the loss of two police officers, namely Sgt. Michael Gyamasi and
L/Cpl. Awal Mohammed in the line of duty.
"This development of
violence, maiming and killing of security officers going about their lawful
duties to protect lives and property in the country is acutely distressing," he
said.
Love Security Agents
The
Vice-President called on Ghanaians to regard police officers and other security
agents as "our family members, friends and protectors", adding, "As a nation,
we must all remember that peace and security are two cardinal necessities in
life and those who have been elected to sacrifice to help us maintain peace and
order ought to be respected and protected."
Glowing Tribute
He
paid glowing tributes to the two fallen cops, describing them as hardworking
who discharged their duties creditably and in the interest of the nation.
"These
gallant men will forever be remembered for their acts of sacrifice for the
nation. Any life lost is a life too much," he said.
New Measures
Recalling
the number of police officers killed in the past five months, with all of them
unarmed, he announced that "henceforth, all officers of the Police Motor
Traffic and Transport Department (MTTD) will be armed to ensure their
protection. Also, all police officers who go on 'outside duties' will now be
armed with weapons, bulletproof vests and helmets to be able to protect
themselves."
The
police officer and his colleague who were killed at Budumburam were officers of
the Kasoa MTTD detachment.
Bulletproof Vests
Four
thousand five hundred (4,500) bulletproof vests, he announced, had been
delivered to the police to help stem these unfortunate incidents.  "Police officers should wear these and not
say that they are uncomfortable to wear," he added.
Other
logistical items, some of them non-lethal, had been delivered to the police to
enhance their efficiency, he said, adding that more items would be delivered to
the law enforcement agency.
"We
must protect our police for them to be able to protect us," he stressed.
More Police Officers
He
said after delivering 567 vehicles to the police in 2017, government had given
clearance for the recruitment of 4,000 police officers to boost 'the numbers'.
Commanders' Confab
Speaking
about the ongoing Police Commanders' Conference taking place at Sogakope in the
Volta Region, he said, "It will come up with enhanced strategies to deal with
relevant issues about the attack on police officers."
"The
issue at hand is a security matter and should not be politicized," he stated.
Police Welfare
The
Vice-President said government had cleared all the backlog of promotions that
were outstanding for the police. "The issue of compensation has also been
resolved with much enhanced packages for policemen injured or who die in the
line of duty. I have asked the IGP to facilitate and expedite the process of
delivering the compensation packages due the families of
all the deceased officers," he asserted.
Widow's Request
Faridatu
Yahya, wife of L/Cpl. Mohammed Awal, suggested after the burial of her husband
that the killers must be made to face the death penalty when convicted.
"I
suggest they should be punished according to how they killed my husband," she
said on radio, explaining, "The same way they killed him, they should be
punished like that. They should be shot to death."
Father's Tears
Mohammed
Osman, father of late L/Cpl. Mohammed said amid tears that "my only son is
gone; Allah has shown his power."
The
distraught Mohammed Osman, a retired driver who lives in Kumasi, said, "It felt
like a dream that I had," referring to when news broke to him that his only son
had been shot dead.
Public Support
For
effective policing, he called for public support in that direction, pointing
out that "whilst we are sleeping in our homes they continue to protect us."
The
Vice-President was accompanied by a high-powered government delegation,
including the Minister of State at the Office of the Vice, Alhaji Boniface
Abubakar Saddique; Ashanti Regional Minister, Simon Osei-Mensah; Minister for
Special Initiatives; Ashanti Regional Chairman of the New Patriotic Party (NPP),
Bernard Antwi Bosiako (Wontumi); and Hajia Hawa Koomson.
The Police Administration was led by COP/Dr. George Akuffo-Dampare, Director-General, Welfare, Police Headquarters, upon whom the management of the funeral rested, was accompanied by COP/Mr. Christian Tetteh Yohunu, Director General MTTD, Police Headquarters; the Ashanti Regional Police Commander, COP/Mr. Paul Awuni; Central Regional Police Commander; ACP/Mrs. Habiba Twumasi, the Deputy Central Regional Police Commander; and many others, including friends and family members of the slain L/Cpl Awal Mohammed.
By A.R. Gomda