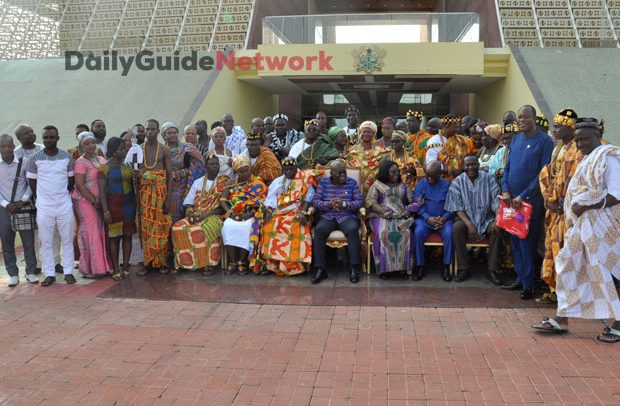 'We're Behind You'
President Nana Addo Dankwa Akufo-Addo with a delegation from Dzodze Traditional Area at the forecourt of the Jubilee House. Picture by Gifty Ama Lawson.
The chiefs and people in the Dzodze Traditional Area in the Ketu North Constituency have pledged their commitment and support to the Akufo-Addo administration.
This was when they paid a courtesy call on the President at the Jubilee House in Accra on Monday.
Speaking on behalf of the chiefs and people, Torgbui Dei III who led the delegation commended the government for the implementation of various campaign promises and policies including the introduction of the Free Senior High School policy, Planting for Food and Jobs, restoration of trainee teachers and nurses allowances, among others.
"Our mission here this afternoon is to commend you and also thank you for the strong leadership you have exhibited since you took over the reigns of governance; the incredible and remarkable success chalked up by your government within the short period bears it all. Your audacious and life-changing policies and programmes have inspired hope in us and we are very excited about the future of this country and the future of our children," he said.
Even though they were not oblivious of the fact that as chiefs they were barred from doing politics, Torgbui Dei insisted "nonetheless, we have interest in politics; our interest lies in the development of our communities and our people, our interest lies in the kind of future our leaders are bequeathing to our children and generations yet unborn."
Torgbui Dei also commended the President for elevating the Ketu North District created by the erstwhile Kufuor administration into a municipality and the renewed effort at actualising the Keta Harbour project and Sea Defence project.
On his part, President Akufo-Addo thanked the chiefs and the people for the support.
"These are things that are encouraging and they inspire us; it means that the work that we are doing are being appreciated and it allows you to have more vim and vigour to even try and do better. So I appreciate very much the words of commendation of the transformation and the impact that the policies that we are drawing are having on the people of Dzodze and the people of Ghana in general," he noted.
While he appreciated the declaration of support for his government, President Akufo-Addo emphasised that "the best news will be in 2020 when you elect my friend Kofi Dzamesi as the MP for Ketu North."
The President pledged his government's commitment in terms of fixing roads, schools and various infrastructural projects in the area.
Present for the visit were Volta Regional Minister, Dr Archibald Letsa, and his Deputy, Johnson Avuletey, MCE for Ketu North, Anthony Avorgbedor, Minister for Chieftaincy and Culture, Kofi Dzamesi, among others.
By Charles Takyi-Boadu, Presidential Correspondent