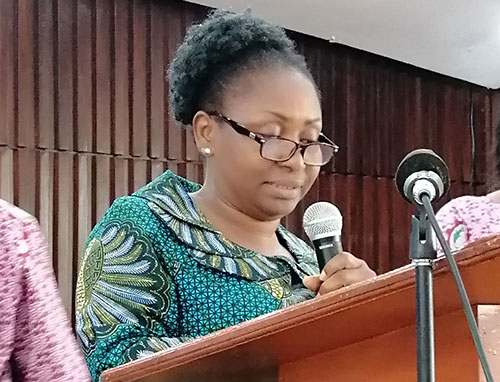 Women Perspective Needed For Education Goals
Dr Renee Aku Sitsofe Morhe
A SENIOR law lecturer at the Kwame
Nkrumah University of Science and Technology (KNUST), Dr. (Mrs) Renee Aku
Sitsofe Morhe, says perspective of women is needed for the country to achieve
the universal educational goals set out by the United Nations.
According to her, greater strides by
government towards achieving inclusive and equitable education may be
impossible if women's perspective is ignored in the scheme of things.
Addressing the 7th quadrennial
delegates' conference of the Teachers and Educational Workers' Union (TEWU)
Women's Committee in Kumasi, Dr Renee said the perspective of women in every
endeavour is important for success.
"The Government of Ghana, like all other
governments in the world, is tasked to achieve and realize the Sustainable
Development Goal 4 – Ensure inclusive and equitable education and promoting
lifelong learning opportunities for all."
She argued that quality education is
one that provides not only free access to primary, secondary and tertiary
education, but also equitable access, which includes introduction of policies
that seek to re-right wrongs that limit access to certain classes of people.
She was delivering the keynote
address at the conference held on the theme: "60 Years of TEWU's Contributions
to the Development of Equitable, Inclusive and Quality Education Delivery in
Ghana."
For the law lecturer, education is
also equitable when it addresses the socio-economic imbalances in access to
education by ensuring that people from diverse backgrounds have more or similar
opportunities when it comes to introduction, accessing and using new
technologies for example.
"Sustainable Development Goal 4
therefore calls for equal access for all women and men to affordable and
quality technical, vocational and tertiary education," she noted.
She added that the goal also demands
for the elimination of wealth parity and education on human rights, gender
equality and promotion of a lifestyle that foster cultural diversity and peace,
and is free from violence.
National President of TEWU Women's
Committee, Johanna Hammond, on her part, said government intend to emphasize on
curriculum, motivation of teaching staff, accessibility and infrastructure as
solutions to quality teaching and learning, and forget about the important role
of non-teaching staff.
She asserted that women in the
non-teaching staff category, who play dual responsibilities as mothers and
workers, are normally forgotten in many considerations.
She entreated government and heads of
institutions to have positive mind-set towards the non-teaching staff since
they form an integral part of the educational system.
From Ernest Kofi Adu, Kumasi