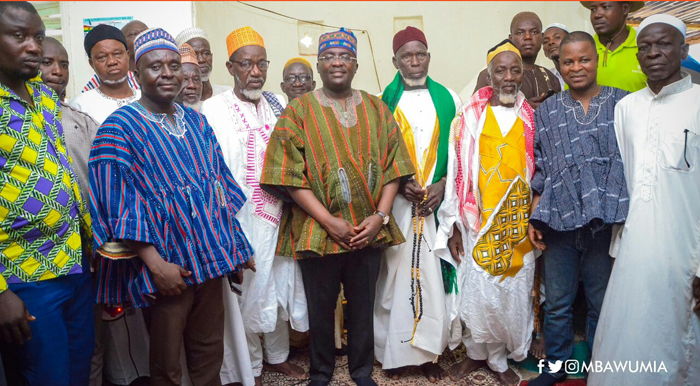 Work On Bolga-Bawku Road Resumes Soon
Vice-President Mahamudu Bawumia (middle) during his Ramadan tour in the Upper East Region
Vice
President Dr. Mahamudu Bawumia has given assurance that work on all sections of
the Bolgatanga-Bawku-Pulmakom in the Upper East Region will resume in the next
three months.
Dr.
Mahamudu Bawumia gave the assurance in an interaction with Muslims at the
Wuriyanga Central Mosque in the Tempane District of the Upper East Region as
part of his 2019 Ramadan tour of the country.
If
this happens, it would fall in line with the assurance by Finance Minister Ken
Ofori Atta during his presentation of the 2019 budget statement on November 15,
2018, that the Bolgatanga-Bawku-Pulmakom road would receive more attention in
2019 from government.
Though
the Brazilian contractor Queiro Galvao stopped working on its portion of the
road over non-payment of its certificates, the Ghanaian counterpart, Mawums
Construction Limited, is working on its portion.
Queiro
Galvao is working on the bigger portion of the road, stretching from the end of
the Sakote township through Bawku to Pulmakom, as well as some Bolgatanga town
roads to the Zuarungu area to form the entire Bolgatanga-Bawku-Pulmakom road.
The
vice president believes that the Bolgatanga-Bawku-Pulmakom road has a lot of
economic benefits to the country, for which reason government is committed to
its proper completion.
If
the road is completed, it would lessen the pressure at the Paga border, where
cargo trucks heading towards Burkina-Faso, Mali and Niger converge and spend
days working on their documentations. This time, those heading towards the
eastern part of Burkina-Faso will go through the Bawku-Kulungugu road, while
the Togo-bound trucks use the Pulmakum road with ease.  
Dr.
Bawumia highlighted some projects, policies and social interventions of the
Akufo-Addo administration such as the Free SHS, 'planting for food and jobs'
and 'one village one dam' as efforts being put in place by government to lessen
the burden on Ghanaians and to get people to invest the little they have.
The
vice president also announced that ambulances for all 275 constituencies in the
country would arrive in the country in the next three months.
The
leadership of the Wuriyanga Central Mosque commended government for its
commitment to the welfare of Muslims and development of Zongo communities in
country through the creation of the Zongo Development Fund and the Ministry of
Inner Cities & Zongo Development.
They called on government to consider building one of its recreational parks in the Tempane dDstrict to provide a conducive place for their children and youth to converge for recreational activities.
FROM Ebo Bruce-Quansah, TempaneP