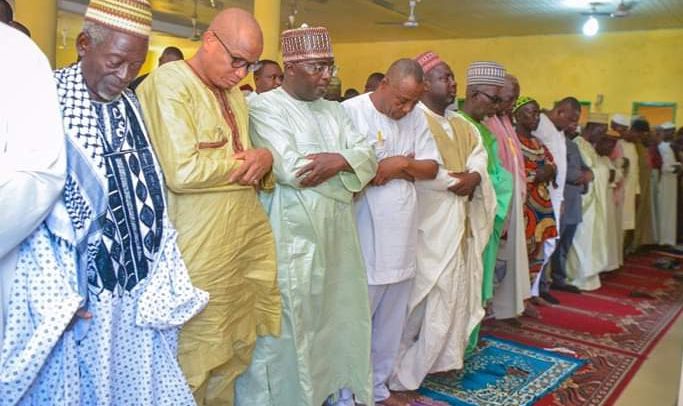 Zongo Chief Acknowledges Akufo- Addo's Love
The Zongo Chief of Kpedze in the Volta Region, Alhaji Iddrisu Eliasu,
has acknowledged President Akufo-Addo's far-reaching policies which, according
to him, have addressed the basic needs of Ghanaians.
The Zongo Chief lauded the President's gestures to the Zongos which had
led to the implementation of policies aimed at ensuring sustainable livelihood.
"We have always needed somebody to come and help the Zongos. We are glad
your government has come and is doing exactly that," he said.
He stressed that governments had come and gone with various donations to
the Zongos but the Akufo-Addo government had provided residents of the region
with initiatives that are far better than edible commodities.
'" . . . We need your 'Planting for Food and Jobs', Free SHS, Zongo
Development Fund, Arabic Teaching, and many other social interventions you have
rolled out. We think the era of rice and sugar donation is now over", Chief
Iddrisu emphasised.
Continuing, he said: "Just yesterday, we collected our fertilizers under
the 'Planting for Food and Jobs. And (thankfully) there is rain today. Tomorrow
we will apply the fertilizer".
To the Vice-President, he said: "Your Excellency, you were here in 2016
as a vice presidential candidate. Today, you are here as Vice-President, and we
pray that you will be here in 2021 as Vice-President again".
Dr. Bawumia is in the district as part of his Ramadan tour. In the Volta
Region, he visited communities such as Kpando, Kpedze and Dzodze. In each of
the communities, he worshipped and prayed in their mosques.
Addressing the gathering of fellow Muslims at the mosque at Kpedze, Dr.
Bawumia called for peace and unity among colleagues of the Islamic faith, as
well as the need for acceptance and tolerance across various faiths in Ghana,
particularly between Muslims and Christians.
"Currently, we enjoy real peace and harmony between Muslims and
Christians largely because we tolerate and accept each other despite our
diversity in faith. We should not take this precious commodity (peace) for
granted since the absence of it means anything worse one can think of", Dr.
Bawumia admonished.
"As a country, our growth and development lie in our unity and that we
must do everything possible to preserve that," he added.
Vice-President Bawumia was joined by the Volta Regional Minister, Dr. Yao Archibald Letsa; Minister for Chieftaincy and Religious Affairs, Kofi Dzamesi; Deputy Information Minister, Pius Enam Hadzide; and some other government officials.